Friday's Lowdown (PLUS, Humboldt's 'Grizzly Bear' Sighting)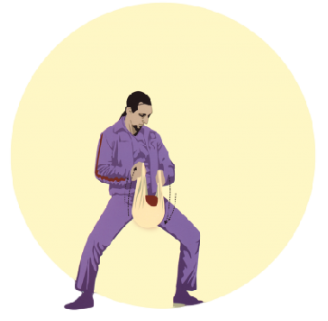 It feels like Humboldt is mostly saving its energy for mañana. Sure, a good number of Humboldt's most tried and true good time bands will plug in tonight, but dagnabbit we kinda just want to go watch a movie we've seen a thousand times.
If it ain't broke... No matter how many times the Arcata Theatre Lounge shows The Big Lebowski — easily the venue's most screened flick — the place always packs out with little urban achievers amped for a night of screaming at The Dude, Walter and Jesus. Will you abide?
In other not-actually news, it was brought to LoCO's attention that there was a Grizzly Bear roadtripping through our region today. Wha? To clarify we're referring to Ed Droste, lead singer for the band Grizzly Bear who has been Instagramming up the state of California for the past few days. Like many before him, he was drawn to a certain Victorian pictured below.
--Andrew Goff
The Lowdown Fun Committee
Andy Approves
Events
Movie Showtimes
Broadway Cinema
AS ABOVE SO BELOW: 12:00, 2:25, 4:50, 7:15, 9:40
CALVARY: 1:20, 6:40
EXPENDABLES 3: 3:30, 8:50
GIVER: 1:00, 6:25
GUARDIANS OF THE GALAXY 2D: 12:15, 3:10, 6:05, 9:00
HUNDRED-FOOT JOURNEY: 12:05, 2:55, 5:45, 8:35
IDENTICAL: 12:25, 3:00, 5:40, 8:20
IF I STAY: 12:10, 2:50, 5:30, 8:05
LET S BE COPS: 1:40, 4:15, 6:50, 9:30
LUCY: 2:30, 4:55, 7:20, 9:40
NOVEMBER MAN: 12:50, 3:35, 6:20, 9:05
SIN CITY: A DAME TO KILL FOR 2D: 9:20
SIN CITY: A DAME TO KILL FOR 3D: 4:00
TEENAGE MUTANT NINJA TURTLES 2D: 12:00, 1:15, 3:45, 6:15, 8:45
WHEN THE GAME STANDS TALL: 1:05, 3:50, 6:30, 9:15
Mill Creek Cinema
EXPENDABLES 3: 2:55, 8:15
GIVER: 12:35, 5:45
GUARDIANS OF THE GALAXY 2D: 12:20, 3:15, 6:05, 9:00
IF I STAY: 12:50, 3:25, 5:55, 8:30
LET S BE COPS: 1:40, 4:15, 6:50, 9:25
NOVEMBER MAN: 12:25, 3:10, 6:00, 8:45
SIN CITY: A DAME TO KILL FOR 2D: 1:15, 6:35
SIN CITY: A DAME TO KILL FOR 3D: 3:55, 9:15
TEENAGE MUTANT NINJA TURTLES 2D: 1:10, 3:50, 6:25, 8:55
WHEN THE GAME STANDS TALL: 12:40, 3:35, 6:20, 9:10
Minor Theatre
BOYHOOD: 4:25, 8:00
HUNDRED-FOOT JOURNEY: 3:25, 6:15, 9:00
MAGIC IN THE MOONLIGHT: 4:10, 6:40, 9:10