Lowdown: The Devil Makes Three Returning to Humboldt in February
Good Tuesday to you, Lowdowners. Couple of notes on upcoming events:
Finish Ticket tickets finished? Not quite: You still have one more day to go online snatch up entry for Thursday's pair of shows at the Arcata Theatre Lounge. After today there may still be some at the door on the day of the show.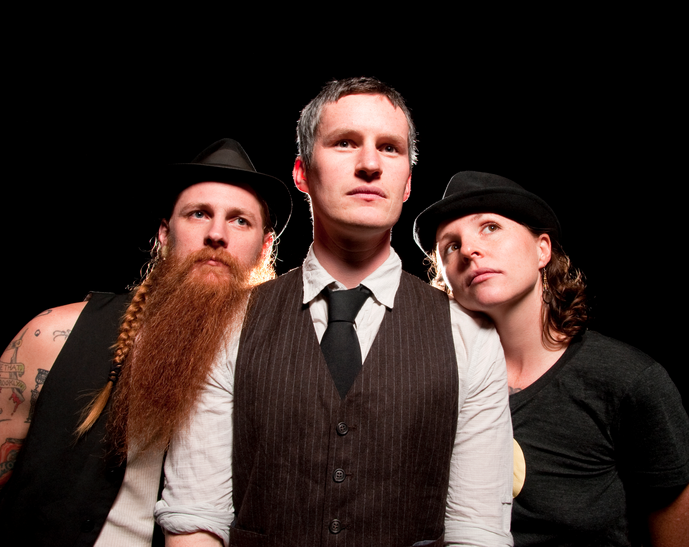 Elsewhere, CenterArts announced today that punky Americana trio The Devil Makes Three have been added to this year's season and will take the Van Duzer Theatre HSU West Gym (Update: oops) stage on Wednesday, Feb. 4 (tickets go on sale Oct. 31). Also, folks who purchased tickets for the tragically canceled Sept. 9 Avett Brothers show received a robocall yesterday indicating a makeup show would take place Monday, Feb. 16. CenterArts event coordinator Michael Moore told LoCO this morning that an official announcement on that show would come next month.
Of course, in the event you can't wait to have your body occupy space within the JVD, note that tonight CenterArts hosts the indisputably unique Tinariwen. The group is comprised of thawb-wearing Tuareg nomads from Mali and present "Saharan desert blues, droning guitar grooves and politically charged lyrics."
Get a Tinariwen taste in the clip below, and/or scroll farther for more Tuesday Lowdown goodness.
--Andrew Goff
The Lowdown Fun Committee
Godlin Gets Behind
Events
Tinariwen
Van Duzer Theater / 8 p.m. / $35 / $10 HSU students
Tinariwen has won over fans worldwide with their Saharan desert blues, droning guitar grooves and politically charged lyrics. Drawing its members from the Tuareg nomads, a repressed tribal people exiled from their native Mali, Tinariwen has developed an expansive sound over years spent in isolation.
826-3928 / Web site / View Comments
Movie Showtimes
Broadway Cinema
ALEXANDER AND THE TERRIBLE HORRIBLE NO GOOD VERY BAD DAY: 12:10, 2:20, 4:30, 6:40, 8:45
ANNABELLE: 4:35, 9:40
BEST OF ME: 12:15, 3:10, 6:05, 8:55
BOOK OF LIFE 2D: 12:00, 3:00, 5:30
BOOK OF LIFE 3D: 12:30, 8:00
DRACULA UNTOLD: 12:40, 4:00, 6:15, 9:35
EQUALIZER: 2:15, 5:15, 8:15
FURY: 2:25, 5:35, 8:40
GONE GIRL: 1:45, 5:10, 8:30
JOHN WICK: 1:30, 4:05, 6:35, 9:10
JUDGE: 12:50, 3:05, 6:20, 8:35
MAZE RUNNER: 1:50, 7:00
OUIJA: 1:55, 4:20, 6:50, 9:20
ST VINCENT: 1:05, 3:45, 6:25, 9:05
Mill Creek Cinema
ALEXANDER AND THE TERRIBLE HORRIBLE NO GOOD VERY BAD DAY: 3:50, 6:00, 8:10
BEST OF ME: 3:10, 6:05, 9:00
BOOK OF LIFE 2D: 3:00, 5:30
BOOK OF LIFE 3D: 8:00
DRACULA UNTOLD: 4:50, 7:10, 9:30
FURY: 5:35, 8:45
JUDGE: 5:20, 8:30
OUIJA: 4:55, 7:05, 9:20
ST VINCENT: 3:40, 6:15, 8:50
Minor Theatre
FURY: 5:25, 8:30
GONE GIRL: 4:55, 8:15
ST VINCENT: 3:50, 6:25, 9:00