Eureka is a Good Place For Bands
"Seattle is where we all ended up but we stay because of the opportunities it provides us and because moving sucks. Our favorite city/show on the tour besides Davis was Eureka, CA. We don't want to blow the lid on the secrets that make Eureka magical but we can state for the record, if you don't have fun playing Eureka you are doing everything wrong with your life."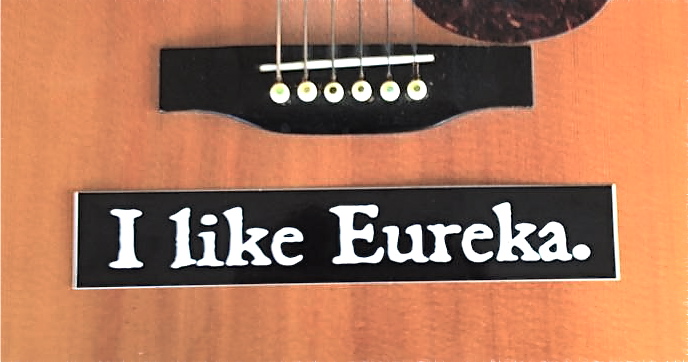 Seattle band Childbirth expressed the above Eureka scene-boosting sentiment in a recent interview with Bust magazine, the latest evidence that behind the Redwood Curtain thrives an often overlooked musical community. Eureka risen.
Take tonight, a Monday, for example. A perusal of today's Lowdown listings reveal a couple of Eureka-based shows pairing artistically adventurous touring acts with Humboldt-grown soundsmiths. First, check out a clip of The Van Allen Belt above — they share a bill with local songwriting machine John Ludington at The Palm Lounge. Then, sample The Breaking Yard in the video below — catch them at The Siren's Song Tavern with local harmonizers Mad River Rose.
These are technically both free shows, so float around, why don't ya?
--Andrew Goff
Events
OU
Arcata Playhouse / 8 p.m. / $15 / $13 students/seniors
OU is dialect for 'egg' in Sardinia, the remote island in the Mediterranean. OU is also an eclectic jazz sextet based in Rome known for their energetic live performances.
822-1575 / info@arcataplayhouse.org / Web site / View Comments
Movie Showtimes
Broadway Cinema
ALEXANDER AND THE TERRIBLE HORRIBLE NO GOOD VERY BAD DAY: 12:10, 2:20, 4:30, 6:40, 8:45
ANNABELLE: 12:05, 3:40, 5:55, 9:30
BOXTROLLS 2D: 12:30, 3:00, 5:30, 7:55
DRACULA UNTOLD: 12:40, 4:00, 6:15, 9:30
EQUALIZER: 2:15, 5:15, 8:15
GONE GIRL: 12:20, 2:35, 6:10, 8:25
GUARDIANS OF THE GALAXY 2D: 12:00, 2:50, 5:40, 8:30
JUDGE: 12:50, 3:05, 6:20, 8:35
LEFT BEHIND: 12:35, 3:20, 6:00, 8:40
LET S BE COPS: 4:25, 9:35
MAZE RUNNER: 12:45, 3:35, 6:25, 9:15
MEET THE MORMONS: 11:55, 2:05, 4:20, 6:35, 8:55
THIS IS WHERE I LEAVE YOU: 1:50, 7:00
Mill Creek Cinema
ALEXANDER AND THE TERRIBLE HORRIBLE NO GOOD VERY BAD DAY: 4:30, 6:40, 8:50
ANNABELLE: 4:20, 6:50, 9:20
BOXTROLLS 2D: 3:10, 5:35, 8:00
DRACULA UNTOLD: 4:50, 7:10, 9:30
EQUALIZER: 2:55, 6:00, 9:05
GONE GIRL: 5:10, 8:35
JUDGE: 5:20, 8:30
MAZE RUNNER: 3:30, 6:20, 9:10
Minor Theatre
GONE GIRL: 4:55, 8:15
MY OLD LADY: 3:40, 6:10, 8:40
SKELETON TWINS: 4:10, 6:35, 9:00