Here is What Humboldt is Doing For Veterans Day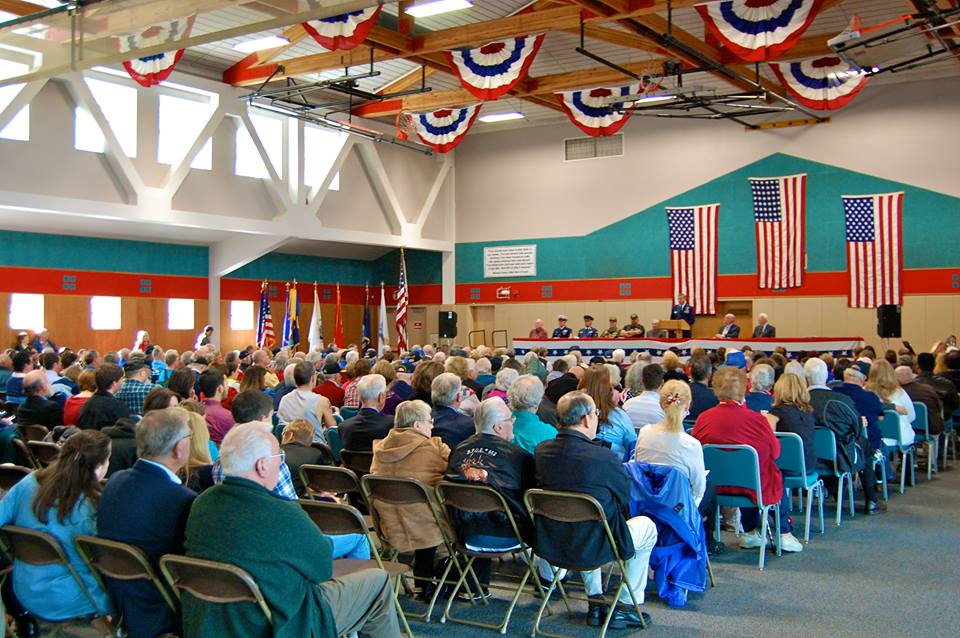 UPDATE, 12:20 p.m.: See? We told you. Above, local people gather for the Rotary Club of Southwest Eureka's annual Veteran's Day program at the Adorni Center. Carry on.
# # #
Original Post: Your Lost Coast Outpost joins the rest of America in high-fiving soldiers today. A quick look at your Lowdown listings today reveals a few gatherings we were able to confirm as happening. The biggest local Veterans Day observance, as is the case most years, will again take place at the Adorni Center and will be highlighted by musical performances by students from Eureka High, as well as the Humboldt Harmonaires.
As day turns to night, should you want to but some music in your ears, consider the Arcata Playhouse as a destination. While singer/songwriter Steve Poltz had to pull out of tonight's show due to illness, headliner Ellis Paul is still making the trek. Over a quarter century of writing and performing, the Boston-based songwriter has managed to produce 19 albums as well as pick up 15 Boston Music Awards. To get a better idea of what Paul is bringing to the aural table, your Lowdown presents the clip below, appropriately enough, a song titled "Plastic Soldiers."
--Andrew Goff
Events
Veterans' Day Observance and Program
Adorni Center / 11 a.m.-noon / Free
The program will feature decorated USAF pilot Colonel Chuck DeBellevue; Eureka High School Jazz Ensemble; Eureka High School Limited Edition; members of the NSDAR who will provide refreshments after the program; Humboldt Harmonaires; and representatives of the NJROTC who will provide the color guard
Web site / View Comments
Ellis Paul (UPDATE)
Arcata Playhouse / 8 p.m. / $18 / $15 students & members
UPDATE, 11/10: Steve Poltz, originally part of this show, has had to cancel due to health problems ... Ellis Paul is a master storyteller and has told tales through his music for more than a quarter century, over the expanse of nineteen albums, numerous critical kudos (15 Boston Music Awards alone).
822-1575 / info@arcataplayhouse.org / Web site / View Comments
Movie Showtimes
Broadway Cinema
ALEXANDER AND THE TERRIBLE HORRIBLE NO GOOD VERY BAD DAY: 1:40, 3:50, 6:00
BIG HERO 6 2D: 12:00, 2:45, 5:30, 8:10
BIG HERO 6 3D: 12:45, 3:30, 6:15, 8:55
BOOK OF LIFE 2D: 12:50, 3:15, 5:40
EQUALIZER: 3:10, 9:15
FURY: 2:25, 5:35, 8:40
GONE GIRL: 12:00, 6:05
INTERSTELLAR: 12:10, 1:05, 3:55, 4:50, 7:40, 8:30
JOHN WICK: 1:30, 4:00, 6:30, 9:05
JUDGE: 8:20
MAZE RUNNER: 8:00
NIGHTCRAWLER: 1:00, 3:45, 6:35, 9:20
OUIJA: 1:55, 4:45, 7:10, 9:30
ST VINCENT: 12:55, 3:35, 6:10, 8:45
Mill Creek Cinema
ALEXANDER AND THE TERRIBLE HORRIBLE NO GOOD VERY BAD DAY: 4:30
BEFORE I GO TO SLEEP: 9:10
BIG HERO 6 2D: 12:00, 2:45, 5:30, 8:10
BIG HERO 6 3D: 12:45, 3:30, 6:15, 8:55
BOOK OF LIFE 2D: 2:00, 6:45
INTERSTELLAR: 12:10, 1:05, 3:55, 4:50, 7:40, 8:30
NIGHTCRAWLER: 1:00, 3:45, 6:35, 9:20
OUIJA: 12:00, 2:20, 4:40, 7:00, 9:30
ST VINCENT: 12:35, 3:10, 5:45, 8:20
Minor Theatre
BLUE ROOM: 12:55, 3:00, 5:05, 7:10, 9:15
INTERSTELLAR: 12:45, 4:20, 8:00
ST VINCENT: 1:20, 3:50, 6:25, 9:00