Humboldt's Tuesday Night Reggae, Alt Pop and Concert Piano Options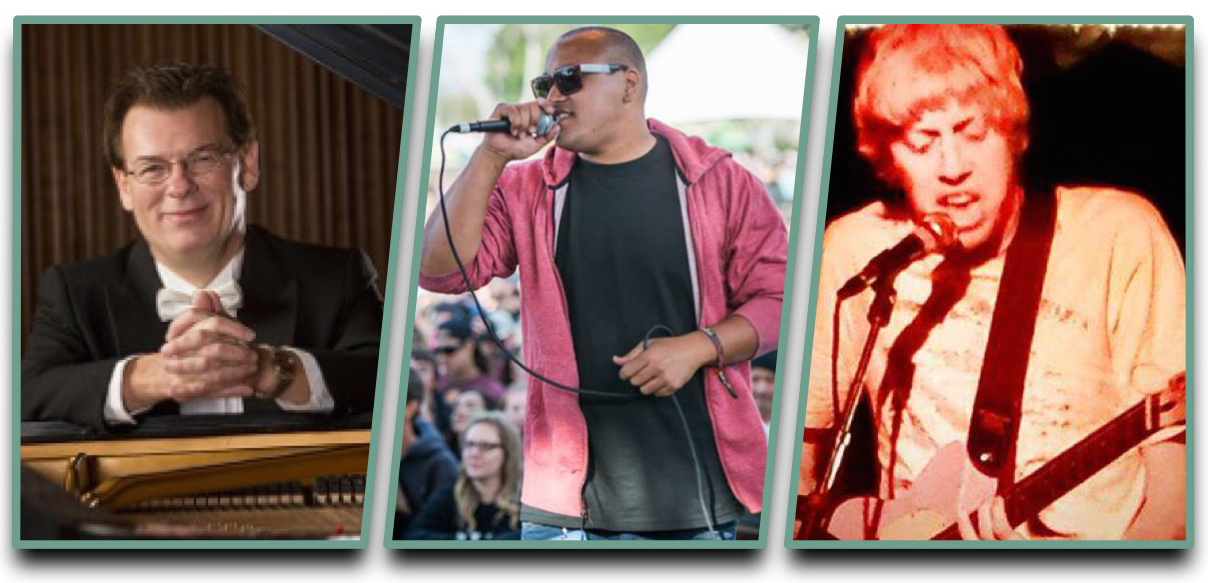 (Above and below: Palmer, The Green, The Wild Lungs)
There are more colors in Humboldt's Tuesday night musical crayon box than we probably deserve:
Big weekday night in SoHum where the stony masses will gather in the Mateel Community Center to again sway to the offbeats provided by Hawaiian reggae-rockers The Green. Of note: The band will undoubtedly be selling plenty of memorabilia with the words "THE GREEN" emblazoned on it. We know that fact specifically will interest someone.
Culture thyself, HumCo. You don't always have to have pounding rhythms, right? Big time ivory tickler Robert Palmer will tackle the complexities of Liszt, Brahms and Chopin to the wonderment of the politely attentive crowd seated in the Fulkerson Ricital Hall. The display will help raise funds for the Northcoast Preparatory and Performing Arts Academy. Listen up, kids.
There's a none-too-shabby alt rock hat trick scheduled to roll in the Jambalaya Tuesday. We've chosen Arcata band The Wild Lungs to be the video representation of this trinity in the clip group above, but you will notice below that last Lowdown Fun Committee member standing Sarah Godlin is getting behind the Flagstaff-birthed synth-oddness of Greco. And she has good taste.
--Andrew Goff
The Lowdown Fun Committee
Godlin Gets Behind
Events
The Green
Mateel Community Center / 7:30 p.m. / $25
Fuses late 1970s-era dub-heavy roots reggae with strands of contemporary rock/pop/R&B and sporadic indigenous Hawaiian musical and lyrical references. The Movement and Hirie open.
923-3368 / Web site / View Comments
Movie Showtimes
Broadway Cinema
AMAZING SPIDER MAN 2 2D: 12:30, 6:20, 9:00
AMAZING SPIDER MAN 2 3D: 3:20
CAPTAIN AMERICA: THE WINTER SOLDIER 2D: 2:05, 5:15, 8:25
DIVERGENT: 4:55, 8:00
FADING GIGOLO: 4:30, 9:25
GOD S NOT DEAD: 5:20, 8:10
GODZILLA 2D: 12:10, 3:15, 6:15, 9:15
GODZILLA 3D: 11:50, 2:45, 5:40, 8:40
GRAND BUDAPEST HOTEL: 1:55, 7:00
HEAVEN IS FOR REAL: 11:55, 2:30, 5:00, 7:30
LEGENDS OF OZ: DORTHY S RETURN 2D: 12:20, 2:40
MILLION DOLLAR ARM: 12:05, 3:00, 5:55, 8:55
NEIGHBORS: 12:00, 12:55, 2:25, 3:50, 5:30, 6:35, 8:15, 9:40
OTHER WOMAN: 1:30, 4:10, 6:50, 9:30
RIO 2 2D: 12:15, 2:55
Mill Creek Cinema
AMAZING SPIDER MAN 2 2D: 5:55
AMAZING SPIDER MAN 2 3D: 2:45, 9:05
CAPTAIN AMERICA: THE WINTER SOLDIER 2D: 8:00
GODZILLA 2D: 2:40, 5:40, 8:40
GODZILLA 3D: 3:15, 6:15, 9:15
HEAVEN IS FOR REAL: 3:20, 5:45, 8:20
LEGENDS OF OZ: DORTHY S RETURN 2D: 3:05
MILLION DOLLAR ARM: 3:00, 6:00, 8:55
NEIGHBORS: 4:30, 7:00, 9:30
OTHER WOMAN: 4:05, 6:45, 9:25
RIO 2 2D: 5:25
Minor Theatre
GODZILLA 2D: 3:15, 6:15, 9:10
GRAND BUDAPEST HOTEL: 3:25, 5:45, 8:10
MILLION DOLLAR ARM: 3:00, 5:55, 8:55