Everclear Frontman Art Alexakis on KSLG This Morning (AUDIO)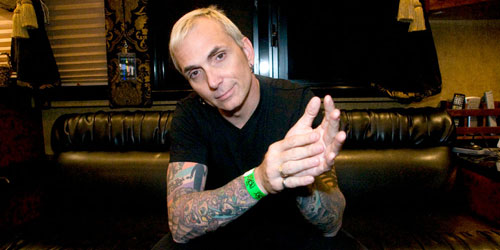 In advance of tonight's '90s sing-a-long at Cher-ae Heights Casino, Everclear frontman Art Alexakis did a phoner with KSLG morning man Myles Cochrane. The two discussed Everclear's latest projects, balancing nostalgia with new material, life, love and the pursuit. Listen below.
For those that don't want to shell out for the ticket and the journey north, there's a couple Friday night gatherings closer to Humboldt's population clusters:
First off, local-boy-going-for-it Berel Alexander returns to Humboldt packing acoustic soul to headline a full night good of vibe-y music at the Arcata Theatre Lounge. Local jamfunkers Liquid Kactus and Diggin' Dirt fill out the bill.
Finally, LoCO readers will recall the tale of Steve Watts, local music promoter and MMA fighter who was seriously injured in a bout last month. Tonight at HumBrews the "Waiting For a Miracle" benefit will feature music by Watts' friends in local Beatles tribute band Silver Hammer, as well as a silent auction.
--Andrew Goff
The Lowdown Fun Committee
Godlin Gets Behind
Events
Everclear
Cher-Ae Heights Casino / 8 p.m. / $39 / $49 premium
Promo: "Double-platinum, Portland alternative rockers Everclear are bringing the hits to The Heights; "Santa Monica," "Everything to Everyone," "I Will Buy You a New Life," "Father of Mine," and the list goes on."
800-684-2464 / Web site / View Comments
Movie Showtimes
Broadway Cinema
AMAZING SPIDER MAN 2 2D: 12:30, 6:20, 9:00
AMAZING SPIDER MAN 2 3D: 3:20
CAPTAIN AMERICA: THE WINTER SOLDIER 2D: 2:05, 5:15, 8:25
DIVERGENT: 4:55, 8:00
FADING GIGOLO: 4:30, 9:25
GOD S NOT DEAD: 5:20, 8:10
GODZILLA 2D: 12:10, 3:15, 6:15, 9:15
GODZILLA 3D: 11:50, 2:45, 5:40, 8:40
GRAND BUDAPEST HOTEL: 1:55, 7:00
HEAVEN IS FOR REAL: 11:55, 2:30, 5:00, 7:30
LEGENDS OF OZ: DORTHY S RETURN 2D: 12:20, 2:40
MILLION DOLLAR ARM: 12:05, 3:00, 5:55, 8:55
NEIGHBORS: 12:00, 12:55, 2:25, 3:50, 5:30, 6:35, 8:15, 9:40
OTHER WOMAN: 1:30, 4:10, 6:50, 9:30
RIO 2 2D: 12:15, 2:55
Mill Creek Cinema
AMAZING SPIDER MAN 2 2D: 11:40, 5:55
AMAZING SPIDER MAN 2 3D: 2:45, 9:05
CAPTAIN AMERICA: THE WINTER SOLDIER 2D: 12:05, 8:00
GODZILLA 2D: 11:45, 2:40, 5:40, 8:40
GODZILLA 3D: 12:15, 3:15, 6:15, 9:15
HEAVEN IS FOR REAL: 12:50, 3:20, 5:45, 8:20
LEGENDS OF OZ: DORTHY S RETURN 2D: 11:50, 3:05
MILLION DOLLAR ARM: 12:00, 3:00, 6:00, 8:55
NEIGHBORS: 2:05, 4:30, 7:00, 9:30
OTHER WOMAN: 1:25, 4:05, 6:45, 9:25
RIO 2 2D: 5:25
Minor Theatre
GODZILLA 2D: 3:15, 6:15, 9:10
GRAND BUDAPEST HOTEL: 3:25, 5:45, 8:10
MILLION DOLLAR ARM: 3:00, 5:55, 8:55