Win a Car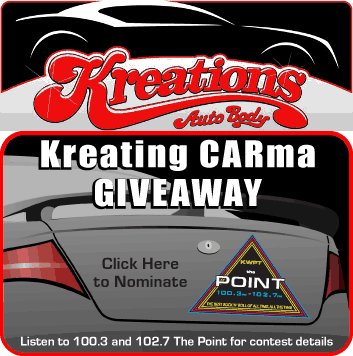 Want a car?
As we've mentioned several times here for those unaware, your Lost Coast Outpost shares an office with the classic rock-peddlin' sophisticates at KWPT The Point 100.3/102.7. While we were listening the other day, mixed in between the Queen and Supertramp our ears perked up due to a startling announcement.
The Point is giving away a car? What?!
'Tis true. Our rockin' amigos are teaming up with Kreations Auto Body in Rio Dell to give away a car of the lucky winner's choosing valued up to $25,000. They're calling this the Kreating CARma Giveaway.
Now, the way this works is that somebody has to nominate you for you to win the car (that's where the "CARma" angle comes into play). So click on over to The Point's website to figure out how you're gonna hack the system.
# # #
As far as Monday is concerned, the Lowdown will note that there's a pretty great event at Jamablaya tonight, namely the Hip Hop For Hope Children's Cancer Foundation benefit featuring emcees Jeff Turner, Hiway and others.
More Monday offerings in your Lowdown below. -AG
The Lowdown Fun Committee
Godlin Gets Behind
Events
Movie Showtimes
Broadway Cinema
AMAZING SPIDER MAN 2 2D: 11:55, 2:25, 5:45, 9:05
AMAZING SPIDER MAN 2 3D: 1:35, 4:55, 8:15
BEARS: 1:10, 3:20
BRICK MANSIONS: 4:50, 9:40
CAPTAIN AMERICA: THE WINTER SOLDIER 2D: 2:05, 5:15, 8:25
DIVERGENT: 12:45, 6:35
GOD S NOT DEAD: 2:15, 7:05
GRAND BUDAPEST HOTEL: 5:30, 7:55
HEAVEN IS FOR REAL: 12:00, 3:45, 6:15, 8:45
LEGENDS OF OZ: DORTHY S RETURN 2D: 12:05, 3:10, 5:35, 8:00
LEGENDS OF OZ: DORTHY S RETURN 3D: 1:25
NEIGHBORS: 1:00, 2:00, 3:30, 4:30, 6:00, 7:00, 8:30, 9:30
OTHER WOMAN: 12:55, 3:40, 6:30, 9:15
QUIET ONES: 3:55, 9:45
RIO 2 2D: 12:10, 2:45, 5:20, 7:50
Mill Creek Cinema
AMAZING SPIDER MAN 2 2D: 2:45, 6:00, 9:15
AMAZING SPIDER MAN 2 3D: 5:30, 8:45
CAPTAIN AMERICA: THE WINTER SOLDIER 2D: 6:05, 9:05
CAPTAIN AMERICA: THE WINTER SOLDIER 3D: 2:55
HEAVEN IS FOR REAL: 3:20, 5:50, 8:20
LEGENDS OF OZ: DORTHY S RETURN 2D: 3:50, 6:15, 8:30
LEGENDS OF OZ: DORTHY S RETURN 3D: 3:15
NEIGHBORS: 4:30, 7:00, 9:30
OTHER WOMAN: 4:05, 6:45, 9:25
RIO 2 2D: 3:05, 5:40, 8:15
Minor Theatre
AMAZING SPIDER MAN 2 2D: 5:20, 8:40
FADING GIGOLO: 4:05, 6:30, 8:55
GRAND BUDAPEST HOTEL: 4:15, 6:45, 9:10