Lowdown: Redwood Coast Jazz Festival Schedule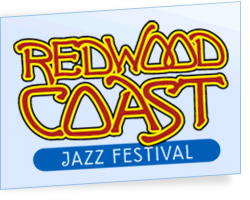 Unless you're impervious to promotion, you're aware that Eureka is again hosting the three-day Redwood Coast Jazz Festival this weekend.
If you're floating toward that jazz, let the Lowdown help you out. We rolled over to the festival website looking for the complete schedule of band performances across the event's five venues and while the information is there in giant downloadable grid form, it's not super mobile friendly for when you're wandering the streets lusting for jazz. So we went ahead and typed it up for you ... and here it is, broke up by individual day:
REDWOOD COAST JAZZ FESTIVAL SCHEDULE:
Friday - Saturday - Sunday
... or if you hate jazz, scroll your Lowdown below.
The Lowdown Fun Committee
Andy Approves
Events
Movie Showtimes
Broadway Cinema
300: RISE OF AN EMPIRE 2D: 1:15, 6:45, 8:50
300: RISE OF AN EMPIRE 3D: 3:15
3 DAYS TO KILL: 6:50, 9:30
DIVERGENT: 11:45, 1:25, 2:50, 4:40, 6:00, 7:55, 9:10
MONUMENTS MEN: 11:55, 5:40
MR PEABODY AND SHERMAN 2D: 12:00, 2:30, 4:55, 7:25
MUPPETS MOST WANTED: 11:50, 1:20, 2:35, 4:05, 5:25, 8:10
NEED FOR SPEED 2D: 3:50, 9:20
NEED FOR SPEED 3D: 12:20, 5:50
NOAH: 11:35, 1:10, 2:40, 4:30, 5:45, 7:45, 8:55
NON-STOP: 12:45, 3:25, 6:05, 8:45
SABOTAGE: 1:00, 3:40, 6:20, 9:00
WIND RISES: 2:45, 8:35
Minor Theatre
DIVERGENT: 2:35, 5:40, 8:50
GRAND BUDAPEST HOTEL: 1:40, 4:10, 6:40, 9:10
NOAH: 2:20, 5:25, 8:30