Thursday's Lowdown: What Does a Street Taste Like?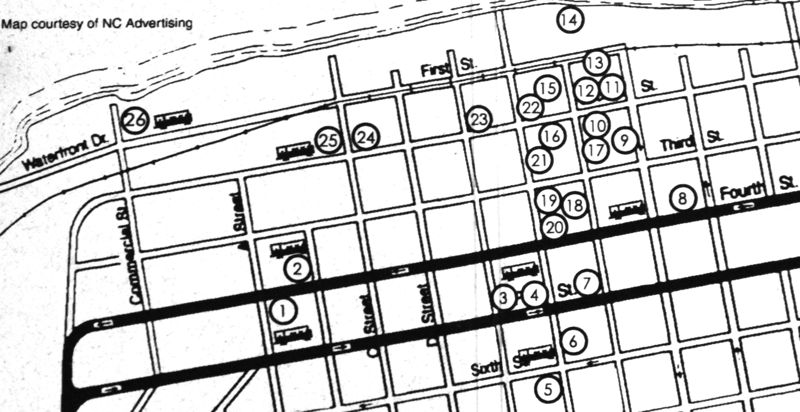 -Plan For Future Fun with the Lowdown Lookahead-
If you long to wander the streets scrounging for small morsels of food, this is the night for you, sir or madam.
If you're unfamiliar with the drill for the annual Taste of Main Street event -- happening tonight in Old Town Eureka, obviously -- let the Lowdown clue you in. For your $25 price of admission, you get a small booklet containing tickets redeemable at 26 local establishments, each with menu of minor edibles prepared specifically for this evening. You have three hours to hurry from grub to grub stuffing your face with as much finger-ish food as you can stomach. It's a haul.
That's pretty much it. Here's the full list of participating businesses. Full details on that, and your other Thursday night events in your Lowdown below.
-Andrew Goff
Events
Movie Showtimes
Broadway Cinema
300: RISE OF AN EMPIRE 2D: 1:15, 6:45, 9:35
300: RISE OF AN EMPIRE 3D: 3:15, 8:50
3 DAYS TO KILL: 5:35, 9:05
DIVERGENT: 11:45, 1:25, 2:50, 4:40, 6:00, 7:55, 9:10
FROZEN 2D: 1:40, 4:20
LEGO MOVIE 2D: 12:30, 3:05
MONUMENTS MEN: 12:05, 3:00, 5:45, 8:35
MR PEABODY AND SHERMAN 2D: 12:00, 1:35, 2:30, 4:05, 4:55, 6:30, 8:20
MUPPETS MOST WANTED: 11:50, 1:10, 2:35, 4:00, 5:25, 6:50, 8:10
NEED FOR SPEED 2D: 3:50, 9:20
NEED FOR SPEED 3D: 12:20, 5:50
NOAH: 7:00
NON-STOP: 1:00, 3:35, 6:15, 8:55
POMPEII 3D: 6:55, 9:30
Mill Creek Cinema
300: RISE OF AN EMPIRE 2D: 4:20
DIVERGENT: 2:50, 6:00, 8:20, 9:10
LEGO MOVIE 2D: 3:00, 5:30, 8:00
MR PEABODY AND SHERMAN 2D: 3:25, 4:55, 5:50, 7:25
MUPPETS MOST WANTED: 2:40, 5:25, 8:10
NEED FOR SPEED 2D: 6:25, 9:20
NEED FOR SPEED 3D: 3:30
NOAH: 7:00
NON-STOP: 3:40, 6:15, 8:50
Minor Theatre
2014 OSCAR NOMINATED ANIMATED SHORT FILMS: 4:10, 6:40, 9:10
DIVERGENT: 5:35, 8:45
WIND RISES: 3:20, 6:10, 9:00