A Special Shot of Allman Brothers in Arcata Tonight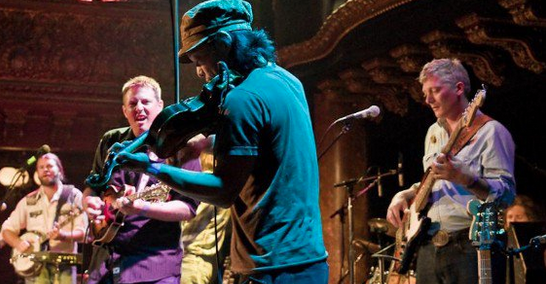 Well, you trudged your way to another weekend, Humboldt. To commemorate, while they usually stick to beer, HumBrews would like to, just this once, pour you a shot.
Poor Man's Whiskey, our regional outlaw bluegrass jam squad, are on something of a unique tour right now. You may recall a previous Humboldt gig that was promoted as "Dark Side of the Moonshine," wherein the group slogged through old-timey arrangements of Pink Floyd songs. This time out they're rolling out a seemingly much more natural "Special Tribute to The Allman Brothers Band" romp. Ramblin' men and girls named Jessica are especially encouraged to attend.
Get a taste of what Whiskey is serving up in the clip below, or peruse your Friday Lowdown farther down.
-Andrew Goff
The Lowdown Fun Committee
Andy Approves
Events
Poor Man's Whiskey
Humboldt Brews / 9:30 p.m. / $15 / 21+
There will be a first set of PMW originals and then they are bringing A Special Tribute to the Allman Brother's Band to Humboldt with some of their favorite songs in PMW style.
826-2739 / Web site / View Comments
Movie Showtimes
Broadway Cinema
300: RISE OF AN EMPIRE 2D: 1:15, 6:45, 9:35
300: RISE OF AN EMPIRE 3D: 3:15, 8:50
3 DAYS TO KILL: 5:35, 9:05
DIVERGENT: 11:45, 1:25, 2:50, 4:40, 6:00, 7:55, 9:10
FROZEN 2D: 1:40, 4:20
LEGO MOVIE 2D: 12:30, 3:05
MONUMENTS MEN: 12:05, 3:00, 5:45, 8:35
MR PEABODY AND SHERMAN 2D: 12:00, 1:35, 2:30, 4:05, 4:55, 6:30, 7:25, 8:20
MUPPETS MOST WANTED: 11:50, 1:10, 2:35, 4:00, 5:25, 6:50, 8:10
NEED FOR SPEED 2D: 3:50, 9:20
NEED FOR SPEED 3D: 12:20, 5:50
NON-STOP: 1:00, 3:35, 6:15, 8:55
POMPEII 3D: 6:55, 9:30
Mill Creek Cinema
300: RISE OF AN EMPIRE 2D: 1:45, 4:20, 9:30
300: RISE OF AN EMPIRE 3D: 6:55
DIVERGENT: 11:45, 1:40, 2:50, 6:00, 8:20, 9:10
LEGO MOVIE 2D: 12:20, 3:00, 5:30, 8:00
MR PEABODY AND SHERMAN 2D: 1:00, 3:25, 4:55, 5:50, 7:25
MUPPETS MOST WANTED: 11:55, 12:50, 2:40, 5:25, 8:10
NEED FOR SPEED 2D: 12:35, 6:25, 9:20
NEED FOR SPEED 3D: 3:30
NON-STOP: 3:40, 6:15, 8:50
Minor Theatre
2014 OSCAR NOMINATED ANIMATED SHORT FILMS: 4:10, 6:40, 9:10
DIVERGENT: 5:35, 8:45
WIND RISES: 3:20, 6:10, 9:00