Lowdown: You Will Stop Hearing About Tony Orlando As Much After Tonight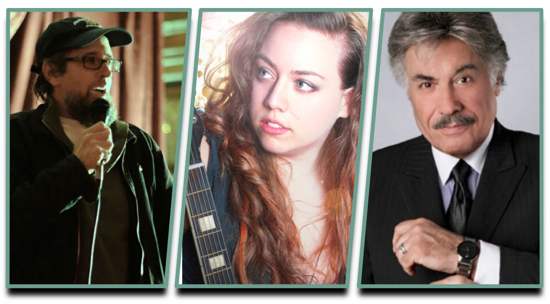 Friday night is the night when people go out. Go out, people:
Former Humboldtian/member of a cappella songstress crew AkaBella Melody Walker returns to our fair county to share songs from her latest album We Made It Home. The folkgrassy project is a collaboration with mandolin player Jacob Groopman. Pick up a copy at tonight's release/show at the Arcata Playhouse (and be reminded of the time Walker and Groopman received the Humboldt Live Sessions treatment in the clip below).
Savage Henry Magazine keeps the steady stream of yuks funneling into HumCo at tonight's Pawns of Comedy showcase at Humboldt Brews headlined by Chico-based personality DNA (that's his name) as well as Ben Del Castillo, Chad Opitiz and Brendan Lynch. Ha.
As you may have heard, oh, everywhere, Tony Orlando will be knockin' three times and tyin' yellow ribbons, etc. up at Cher-ae Heights Casino tonight. Dawn can't make it, but the hits will be there.
If none of the fun above grabs you then you, my friend, have some scrolling to do. Happy hunting.
-AG
The Lowdown Fun Committee
Godlin Gets Behind
Events
Movie Showtimes
Mill Creek Cinema
300: RISE OF AN EMPIRE 2D: 12:45, 3:20, 6:05, 8:45
300: RISE OF AN EMPIRE 3D: 1:15, 3:55, 6:35, 9:15
LEGO MOVIE 2D: 12:15, 2:45, 5:20, 7:50
MONUMENTS MEN: 12:25, 5:50
MR PEABODY AND SHERMAN 2D: 12:35, 2:25, 3:10, 5:40, 8:05
MR PEABODY AND SHERMAN 3D: 12:00, 4:55, 7:25
NON-STOP: 12:55, 3:35, 6:15, 8:55
POMPEII 2D: 8:40
POMPEII 3D: 3:15
SON OF GOD: 11:50, 2:55, 6:00, 9:05
Minor Theatre
300: RISE OF AN EMPIRE 2D: 3:50, 6:30, 9:10
AMERICAN HUSTLE: 5:10, 8:20
HER: 3:25, 8:50
PHILOMENA: 6:20