Sunday, March 2, 2014's Lowdown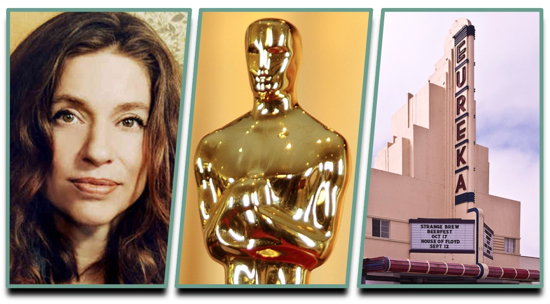 Well you have a big decision today don't you, Humboldt? Is the thrill of experiencing the same-room-electricity that Ani DiFranco transfers to her audiences worth missing the live Academy Awards telecast for? I mean, you could try to sneak them both in considering the awards start at 4 p.m., but you know how long that damn show is (think about that Van Duzer Theatre park and walk). You'd miss the awards that matter, dagnabbit! Quite the dilemma, especially since missing DiFranco's opener -- local girl done great Jenny Scheinman -- would be a crime. Damn you, life's choices!
If you do decide to veer strictly Hollywood, remember that they're having a big Oscar party at the Eureka Theatre tonight in conjunction with the venue's 75th Anniversary Jubilee. See the gold statuettes handed out on the big screen while enjoying 1939-style cocktails.
It's your Sunday. Choose wisely.
-Andrew Goff
Events
Making God Laugh
Redwood Curtain Theatre / 2 p.m. / $15
A family comedy that takes place in four scenes, each ten years apart, set at various holidays. Starting in 1980, the kids – a priest, an aspiring actress, and a former star football player – all return home, where we learn of their plans and dreams as they embark on their adult lives.
View Comments
Ani DiFranco
Van Duzer Theater / 8 p.m. / $45 / $22 HSU students
"Experience the empowering spirit of this self described "little folksinger," whose songs tackle barbed political issues with uncommon insight and compassion." Special guest Jenny Scheinman will open the show.
826-3928 / Web site / View Comments
Movie Showtimes
Broadway Cinema
3 DAYS TO KILL: 12:45, 3:30, 6:15, 9:00
ABOUT LAST NIGHT: 4:15, 9:30
ANCHORMAN 2 SUPER SIZED R RATED VERSION: 2:00, 5:15, 8:35
FROZEN 2D: 12:10, 5:20
LEGO MOVIE 2D: 11:55, 12:40, 2:30, 5:05
LEGO MOVIE 3D: 3:10, 7:40
LONE SURVIVOR: 5:40, 8:30
MONUMENTS MEN: 12:05, 3:00, 5:55, 8:50
NON-STOP: 1:15, 3:55, 6:35, 9:15
PHILOMENA: 2:45, 8:00
POMPEII 2D: 4:05, 9:20
POMPEII 3D: 1:30, 6:40
RIDE ALONG: 2:20, 4:45, 7:10, 9:35
ROBOCOP: 12:10, 2:55, 5:50, 8:40
SON OF GOD: 11:50, 2:55, 6:00, 9:05
WINTER S TALE: 1:25, 6:45
Mill Creek Cinema
3 DAYS TO KILL: 12:15, 3:05, 5:50, 8:40
ANCHORMAN 2 SUPER SIZED R RATED VERSION: 2:05, 5:25, 8:45
LEGO MOVIE 2D: 12:30, 3:00, 5:30, 8:00
MONUMENTS MEN: 12:25, 3:20, 6:10, 9:00
NON-STOP: 1:00, 3:45, 6:30, 9:15
POMPEII 2D: 4:10, 9:20
POMPEII 3D: 1:35, 6:45
ROBOCOP: 1:10, 3:55, 6:40, 9:30
SON OF GOD: 11:50, 2:55, 6:00, 9:05
Minor Theatre
3 DAYS TO KILL: 1:10, 3:50, 6:30, 9:10
AMERICAN HUSTLE: 2:00, 5:10, 8:20
HER: 3:25, 8:50
PHILOMENA: 1:00, 6:20