Thursday's Lowdown: Honestly, When's the Last Time You Went to The Lil' Red Lion?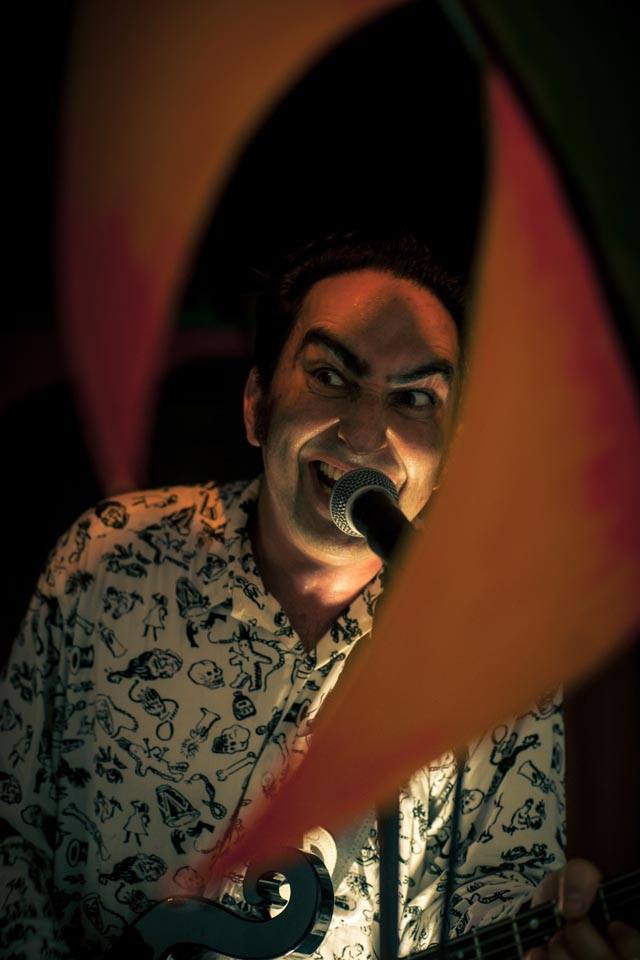 Sure, it's gonna be a culturally packed night in at Dell'Arte in Blue Lake, what with the back-to-back Korbel V/Taken Away one/two punch continuing through Friday. But if you hold LoCO's feet to the fire and force us to choose only one traveling bizarro one-man band this Thursday evening, you know, we're gonna have to steer you to the under-appreciated Lil' Red Lion in Eureka. There, you'll simultaneously scratch your head and tap your foot to the focused weirdness of Bay Area "surrealistic rock 'n' roll"er Andrew Goldfarb AKA The Slow Poisoner.
Check out the surprisingly well-produced clip for Goldfarb's song "Hot Rod Worm" below and/or find another human cluster that best suits your tastes in your Lowdown listings below.
—Andrew Goff
The Lowdown Fun Committee
Godlin Gets Behind
Events
Korbel V: The Secret
Dell'Arte / 8 p.m.
The long-awaited next episode of Dell'Arte's Humboldt County saga of the ill-fated Dugan family. Written by playwright and director Lauren Wilson. Part of the Mad River Festival. Runs through July 6.
Web site / View Comments
The Slow Poisoner
Little Red Lion / 9 p.m.
"One-man surrealistic rock and roll band playing the devil's music to audiences across America since 1996. One foot kicks a drum festooned with sleigh bells while his hands strangle a guitar, and through his crooked teeth emerge stories of rural paranoia and cosmic horror."
View Comments
Taken Away: An Acrobatic Theatre Event
Carlo Theatre (Dell'Arte) / 10:30 p.m. / $12 / $8 Child / $10 Student/Senior
Weaves classic circus skills like hand-balancing, tumbling, and equilibrium into dramatic and comic stories of human interaction. Created and performed by Alyssa Hughlett, Jerome Yorke, Moses Norton, Hannah Gaff and Dell'Arte faculty members Nicholette Routhier and Joe Krienke.
668-5663 / Web site / View Comments
Movie Showtimes
Broadway Cinema
22 JUMP STREET: 1:00, 3:45, 6:30, 8:00, 9:15
CHEF: 12:10, 2:55, 5:40
EDGE OF TOMORROW 2D: 3:35, 8:55
EDGE OF TOMORROW 3D: 12:30, 5:55
FAULT IN OUR STARS: 11:45, 2:40, 5:35, 8:40
HOW TO TRAIN YOUR DRAGON 2 2D: 11:50, 12:50, 2:25, 5:00, 6:00, 7:35
HOW TO TRAIN YOUR DRAGON 2 3D: 3:25, 8:35
JERSEY BOYS: 11:55, 3:00, 6:05, 9:10
MALEFICENT 2D: 12:15, 1:05, 2:50, 5:25, 6:25
MALEFICENT 3D: 3:20
MILLION WAYS TO DIE IN THE WEST: 1:50, 7:00
NEIGHBORS: 4:35, 9:45
THINK LIKE A MAN TOO: 1:35, 4:15, 6:55, 9:35
TRANSFORMERS: AGE OF EXTINCTION 2D: 9:00
TRANSFORMERS: AGE OF EXTINCTION 3D: 9:00
X-MEN: DAYS OF FUTURE PAST 2D: 2:15, 5:20, 8:20
Mill Creek Cinema
22 JUMP STREET: 1:15, 4:00, 6:45, 9:30
EDGE OF TOMORROW 2D: 3:45, 9:10
EDGE OF TOMORROW 3D: 12:30, 6:10
FAULT IN OUR STARS: 12:00, 2:55, 5:50, 8:45
HOW TO TRAIN YOUR DRAGON 2 2D: 11:55, 12:55, 2:30, 3:25, 5:05, 6:00, 7:40
HOW TO TRAIN YOUR DRAGON 2 3D: 8:30
JERSEY BOYS: 11:50, 2:50, 5:55, 9:00
MALEFICENT 2D: 1:00, 3:15, 6:30
MILLION WAYS TO DIE IN THE WEST: 3:35
TRANSFORMERS: AGE OF EXTINCTION 2D: 9:00
TRANSFORMERS: AGE OF EXTINCTION 3D: 9:00
X-MEN: DAYS OF FUTURE PAST 2D: 12:35, 6:20
Minor Theatre
CHEF: 3:40, 6:20
IDA: 3:50, 5:55, 8:00
ROVER: 4:15, 6:45, 9:15
TRANSFORMERS: AGE OF EXTINCTION 2D: 9:00