Wednesday, June 25, 2014's Lowdown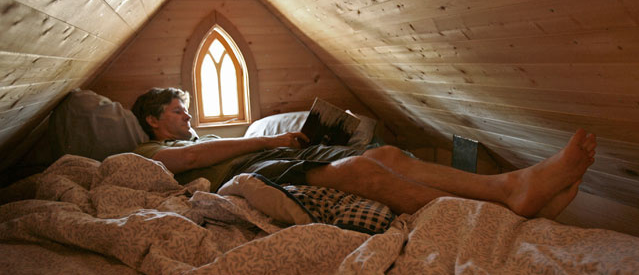 Despite our isolation, Humboldt was certainly not immune to the recent real estate market collapse and/or general economic downturn, leaving many to question the viability of their current pace of consumption. Stuff, man. How much do we need? Whoa.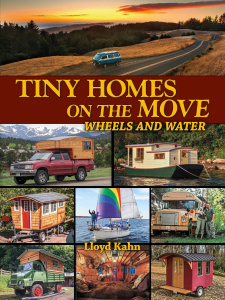 If your brain won't shut up about related dilemmas, perhaps your life would benefit from the simplification the suddenly-super-logical tiny home movement is promising. Less cleaning! Maybe you happened upon the kinda jarring trailer for that Netflix-able documentary Tiny: A Story About Living Small online (if not, see it below). Makes a lot of sense, no?
Why do we mention all this in Lowdown land? Well, Wednesday night at Northtown Books, author Lloyd Kahn will give a talk on the joys of mini-houses as part of a presentation of his new book Tiny Homes on the Move: Wheels and Water. The book focuses on "people who have chosen to build and inhabit homes that are tiny and mobile. They don't pay rent to a landlord, nor do they have lifetime mortgage obligations to a bank." Could be personally revelatory. Who knows?
Other more traditional Lowdown going out options in your listings below.
—Andrew Goff
The Lowdown Fun Committee
Godlin Gets Behind
Events
Taken Away: An Acrobatic Theatre Event
Carlo Theatre (Dell'Arte) / 8 p.m. / $12 / $8 Child / $10 Student/Senior
Weaves classic circus skills like hand-balancing, tumbling, and equilibrium into dramatic and comic stories of human interaction. Created and performed by Alyssa Hughlett, Jerome Yorke, Moses Norton, Hannah Gaff and Dell'Arte faculty members Nicholette Routhier and Joe Krienke.
668-5663 / Web site / View Comments
Korbel V: The Secret
Dell'Arte / 8 p.m.
The long-awaited next episode of Dell'Arte's Humboldt County saga of the ill-fated Dugan family. Written by playwright and director Lauren Wilson. Part of the Mad River Festival. Runs through July 6.
Web site / View Comments
Movie Showtimes
Broadway Cinema
22 JUMP STREET: 1:00, 3:45, 6:30, 8:00, 9:15
CHEF: 12:10, 2:55, 5:40, 8:25
EDGE OF TOMORROW 2D: 3:35, 8:55
EDGE OF TOMORROW 3D: 12:30, 5:55
FAULT IN OUR STARS: 11:45, 2:40, 5:35, 8:40
HOW TO TRAIN YOUR DRAGON 2 2D: 11:50, 12:50, 2:25, 5:00, 6:00, 7:35
HOW TO TRAIN YOUR DRAGON 2 3D: 3:25, 8:35
JERSEY BOYS: 11:55, 3:00, 6:05, 9:10
MALEFICENT 2D: 12:15, 1:05, 2:50, 5:25, 6:25
MALEFICENT 3D: 3:20, 8:45
MILLION WAYS TO DIE IN THE WEST: 1:50, 7:00
NEIGHBORS: 4:35, 9:45
THINK LIKE A MAN TOO: 1:35, 4:15, 6:55, 9:35
X-MEN: DAYS OF FUTURE PAST 2D: 2:15, 5:20, 8:20
Mill Creek Cinema
22 JUMP STREET: 1:15, 4:00, 6:45, 9:30
EDGE OF TOMORROW 2D: 3:45, 9:10
EDGE OF TOMORROW 3D: 12:30, 6:10
FAULT IN OUR STARS: 12:00, 2:55, 5:50, 8:45
HOW TO TRAIN YOUR DRAGON 2 2D: 11:55, 12:55, 2:30, 3:25, 5:05, 6:00, 7:40
HOW TO TRAIN YOUR DRAGON 2 3D: 8:30
JERSEY BOYS: 11:50, 2:50, 5:55, 9:00
MALEFICENT 2D: 1:00, 3:15, 6:30
MALEFICENT 3D: 8:50
MILLION WAYS TO DIE IN THE WEST: 3:35, 9:20
X-MEN: DAYS OF FUTURE PAST 2D: 12:35, 6:20
Minor Theatre
CHEF: 3:40, 6:20, 9:00
IDA: 3:50, 5:55, 8:00
ROVER: 4:15, 6:45, 9:15