Wednesday, June 4, 2014's Lowdown
While your Lost Coast Outpost is pulling it together after a long election night, the human cluster of McKinleyville is gearing up for its annual, almost-week-long, "Let's be a community!" event.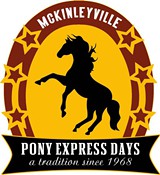 Starting today and continuing through Sunday, Mack town presents Pony Express Days. Here's a brief rundown of the next five days.
Wednesday: Its the annual Chili Cook-off in Pierson Park and you're the judge. Local bluegrass band Pilot Rock Ramblers provide your chili-ingesting soundtrack (5:30 p.m.)
Thursday: If you like to watch firemen acting like firemen then the Firemen's Muster in the Ray's Food Place parking lot would be a dumb thing to miss (5:30 p.m.)
Friday: Local artisans and farmers will populate the Farm Fest at A&L Feed (2-7 p.m.). Don't shop too hard as to not have enough foot strength for the Barn Dance (8 p.m.).
Saturday: Everyone loves a Parade! And there will be a McKinleyville-ized version rolling down Central Avenue starting at noon. Then the main event: the Festival in Pierson Park features all-day live music, food and frolic.
Sunday: Actual horse will legitimize this whole affair during Gymkhana at the McKinleyville Rodeo grounds on both Saturday and Sunday.
Yee. Haw.
—Andrew Goff
Events
Movie Showtimes
Broadway Cinema
AMAZING SPIDER MAN 2 2D: 3:10, 8:55
BLENDED: 2:40, 5:30, 8:20
GODZILLA 2D: 2:50, 8:50
GODZILLA 3D: 11:55, 5:50
MALEFICENT 2D: 1:15, 3:50, 4:40, 6:10, 8:45, 9:45
MALEFICENT 3D: 2:00, 7:15
MILLION DOLLAR ARM: 12:20, 3:15, 6:15, 9:05
MILLION WAYS TO DIE IN THE WEST: 12:30, 3:20, 6:25, 9:15
MOMS NIGHT OUT: 12:40, 6:30
NEIGHBORS: 2:10, 4:45, 7:10, 9:40
OTHER WOMAN: 6:45, 9:25
RAILWAY MAN: 1:25, 4:05, 6:50, 9:30
RIO 2 2D: 1:35, 4:10
X-MEN: DAYS OF FUTURE PAST 2D: 12:00, 3:00, 6:05, 9:10
X-MEN: DAYS OF FUTURE PAST 3D: 2:30, 5:35, 8:35
Mill Creek Cinema
BLENDED: 3:45, 6:30, 9:10
GODZILLA 2D: 3:10, 9:00
GODZILLA 3D: 6:00
MALEFICENT 2D: 3:30, 5:15, 6:55
MALEFICENT 3D: 2:40, 7:45
MILLION DOLLAR ARM: 8:50
MILLION WAYS TO DIE IN THE WEST: 4:05, 6:05, 9:30
NEIGHBORS: 4:40, 7:10, 9:40
X-MEN: DAYS OF FUTURE PAST 2D: 3:20, 6:20, 9:20
X-MEN: DAYS OF FUTURE PAST 3D: 2:50, 5:50, 8:50
Minor Theatre
BELLE: 3:20, 5:50, 8:20
GODZILLA 2D: 2:50, 5:40, 8:35
X-MEN: DAYS OF FUTURE PAST 2D: 3:10, 6:10, 9:10