(VIDEO) Today is That Day Every Year When Humboldt Watches the Fortuna Quadiators Fight Video Again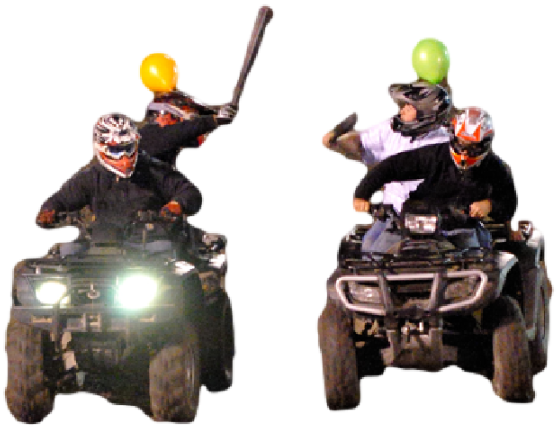 Humboldt is currently known for a few things. Marijuana? Sure. Giant trees? Absolutely. But we at LoCO wonder: If we play our cards right, could our fair, sophisticated county someday be internationally known for one of our more unique and wonderful innovations? Will we get credit for being the birthplace of Quadiators? I mean, it's only a matter of time before this thing catches on elsewhere, right?
Time will tell. In the meantime, Fortuna Rodeo Week kicks into high gear tonight with the return of the annual Motorsports Night, again headlined by the human Mario Kart spectacle known as Quadiators.
It seems like we attempt to reexplain this thing every year, but you all get it by now, right? If not, refer to the most famous of Quadiators videos below, featuring the inevitable slobberknocker you prolly shoulda expected when you give dudes whiffle ball bats and tell them to swing at each other. This is pure Humboldt viral video. Fortuna Police get involved. The song "Bad Boys" is played. Great theater.
Anywho, make the trek to Fortuna's Rodeo Grounds tonight or choose a less combative event from your Friday Lowdown listings below.
--Andrew Goff
The Lowdown Fun Committee
Godlin Gets Behind
Events
Movie Showtimes
Broadway Cinema
22 JUMP STREET: 1:05, 3:45, 6:25, 9:20
AMERICA: 12:50, 3:30, 6:10, 8:50
DAWN OF THE PLANET OF THE APES 2D: 11:55, 1:50, 3:00, 6:00, 9:00
DAWN OF THE PLANET OF THE APES 3D: 4:55, 8:00
EARTH TO ECHO: 12:20, 2:40, 5:10
FAULT IN OUR STARS: 7:40
HOW TO TRAIN YOUR DRAGON 2 2D: 12:15, 2:45, 5:20, 7:55
MALEFICENT 2D: 12:05, 2:30, 5:00, 7:30
PLANES: FIRE AND RESCUE 2D: 2:00, 4:15, 6:30
PLANES: FIRE AND RESCUE 3D: 11:50, 8:40
PURGE: ANARCHY: 1:20, 4:00, 6:50, 9:30
SEX TAPE: 1:40, 4:10, 6:40, 9:10
TAMMY: 12:00, 2:25, 4:50, 7:15, 9:40
TRANSFORMERS: AGE OF EXTINCTION 2D: 1:00, 8:10
TRANSFORMERS: AGE OF EXTINCTION 3D: 4:35
Mill Creek Cinema
22 JUMP STREET: 6:10, 8:50
DAWN OF THE PLANET OF THE APES 2D: 12:00, 3:00, 6:00, 9:00
DAWN OF THE PLANET OF THE APES 3D: 1:50, 4:55, 8:00
EARTH TO ECHO: 12:50, 3:10, 5:30
HOW TO TRAIN YOUR DRAGON 2 2D: 1:10, 3:40
PLANES: FIRE AND RESCUE 2D: 11:50, 2:00, 4:15, 6:30, 8:40
PURGE: ANARCHY: 1:30, 4:05, 6:45, 9:20
SEX TAPE: 1:25, 4:00, 6:35, 9:10
TAMMY: 2:00, 4:30, 7:00, 9:30
TRANSFORMERS: AGE OF EXTINCTION 2D: 7:50
Minor Theatre
BEGIN AGAIN: 1:50, 4:20, 6:50, 9:20
CHEF: 1:10, 3:50, 6:30, 9:10
DAWN OF THE PLANET OF THE APES 2D: 12:00, 3:00, 6:00, 9:00