Lowdown: Huckleberry Flint, Tom Rhodes and the Gravitron Enhance Humboldt's Wednesday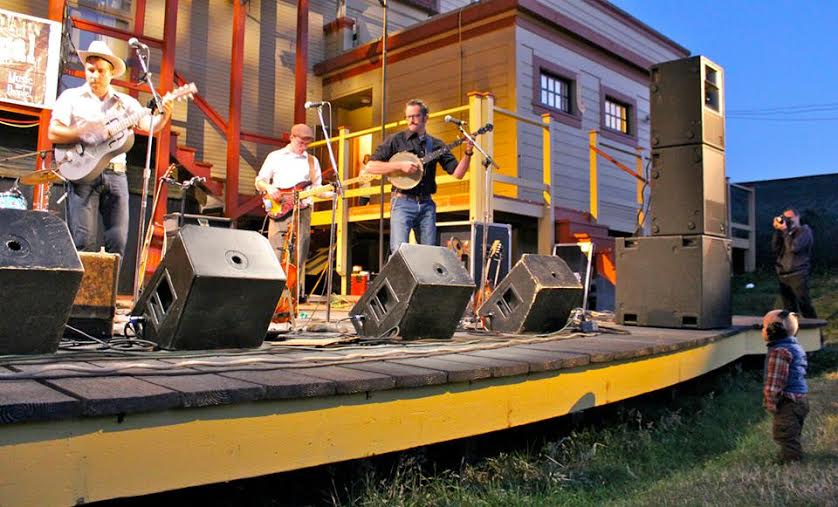 (Above: A young fan gets bowled over by Huck Flint at last year's Folklife Festival.)
Your Lowdown is calling this a well above-average Humboldt Wednesday. Here is our case:
Maybe it's due to the fact that humans like chocolate so much, but Huckleberry Flint don't play out as often these days. One of the handful of chances to see the multiple time local "Best Band" winners comes your way in the form of tonight's headlining performance at the Humboldt Folklife Festival's Country Roots Night in Dell'Arte's Rooney Amphitheater. Huck Flint shares Wednesday's bill with local pickers No Good Redwood Ramblers and Raising Grain.
Fortuna Rodeo Week rolls on with the opening of the annual carnival in Rohner Park — Ferris wheel, Gravitron, the Zipper and greasy curley fries. Great combo. The carnival will remain open for all your nausea needs through Sunday.
Ha. Humboldt Brews plays host to a midweek yukdown featuring multiple comedians and headlined by raunch veteran Tom Rhodes. Get Rhodes' take on Presidential dick pics in the Comedy Central clip below. (Spoiler: He is for them.)
Even more potential Wednesday night people clusters in your Lowdown listings below.
—Andrew Goff
The Lowdown Fun Committee
Godlin Gets Behind
Events
Movie Showtimes
Broadway Cinema
22 JUMP STREET: 1:05, 3:45, 6:30, 9:20
DAWN OF THE PLANET OF THE APES 2D: 11:45, 2:10, 5:15, 5:55, 8:20
DAWN OF THE PLANET OF THE APES 3D: 2:50, 9:00
DELIVER US FROM EVIL: 1:00, 3:50, 6:40, 9:30
EARTH TO ECHO: 12:55, 3:20, 5:45, 8:10
EDGE OF TOMORROW 2D: 12:05, 2:55, 5:40, 8:30
FAULT IN OUR STARS: 3:05, 9:10
HOW TO TRAIN YOUR DRAGON 2 2D: 12:15, 1:10, 2:45, 3:40, 5:20, 7:55
JERSEY BOYS: 12:00, 6:00
MALEFICENT 2D: 12:00, 2:30, 5:00, 7:30
TAMMY: 12:10, 3:35, 6:15, 6:20, 8:45, 9:45
TRANSFORMERS: AGE OF EXTINCTION 2D: 11:55, 2:40, 6:05
TRANSFORMERS: AGE OF EXTINCTION 3D: 8:50
Mill Creek Cinema
22 JUMP STREET: 1:20, 4:05, 6:50, 9:30
DAWN OF THE PLANET OF THE APES 2D: 12:00, 3:00, 6:00, 9:00
DAWN OF THE PLANET OF THE APES 3D: 5:20, 8:20
DELIVER US FROM EVIL: 12:40, 3:30, 6:20, 9:10
EARTH TO ECHO: 12:50, 3:10, 5:35, 8:00
HOW TO TRAIN YOUR DRAGON 2 2D: 11:55, 2:40, 5:10, 7:40
MALEFICENT 2D: 12:20, 2:50
TAMMY: 12:10, 3:20, 6:10, 9:20
TRANSFORMERS: AGE OF EXTINCTION 2D: 11:45, 5:45, 8:35
TRANSFORMERS: AGE OF EXTINCTION 3D: 2:35
Minor Theatre
CHEF: 3:50, 6:30, 9:10
DAWN OF THE PLANET OF THE APES 2D: 3:00, 6:00, 9:00
OBVIOUS CHILD: 3:40, 9:20
TRANSFORMERS: AGE OF EXTINCTION 2D: 5:50