Wednesday, July 2, 2014's Lowdown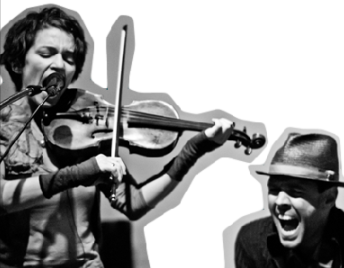 You know, it's not very often your Lowdown features shows that happen in Petrolia. In fact, in our year of existence this just might be the first one, by golly. Kinda slacking on the "Lost Coast" portion of "Lost Coast Outpost," we guess. Sowwy!
But tonight at the Mattole Valley Community Center gathered ears will be treated to the arrangements of Rabbit Rabbit, ostensibly comprised of the husband and wife duo Carla Kihlstedt and Matthias Bossi. Over the years, the multi-instrumentalist pair have played with numerous other artists including Tom Waits, Tracy Chapman, Pretty Lights and Mike Patton. In the last couple of years, they've embarked on a mission to release a song/video a month under a pay-what-you-can model, a gimmick unique enough to garner a writeup in the New York Times last year.
Check out one of their many videos below and/or check out one of the human clusters occurring closer to Humboldt's larger population clusters in your Lowdown listings below.
—Andrew Goff
The Lowdown Fun Committee
Godlin Gets Behind
Events
Movie Showtimes
Broadway Cinema
22 JUMP STREET: 1:05, 3:45, 6:30, 9:20
EDGE OF TOMORROW 2D: 12:10, 2:55, 5:45, 8:30
FAULT IN OUR STARS: 12:30, 3:25, 6:20, 9:15
HOW TO TRAIN YOUR DRAGON 2 2D: 12:15, 1:10, 2:45, 3:40, 5:20
HOW TO TRAIN YOUR DRAGON 2 3D: 7:55
Mill Creek Cinema
22 JUMP STREET: 1:20, 4:05, 6:50, 9:30
DELIVER US FROM EVIL: 12:50, 3:40, 6:30, 9:20
EARTH TO ECHO: 12:40, 3:10, 5:35, 8:00
HOW TO TRAIN YOUR DRAGON 2 2D: 12:45, 3:20, 5:55
HOW TO TRAIN YOUR DRAGON 2 3D: 8:25
MALEFICENT 2D: 12:20, 2:50, 5:20, 7:50
TAMMY: 1:40, 4:10, 6:40, 9:10
TRANSFORMERS: AGE OF EXTINCTION 2D: 1:30, 5:10, 7:30, 8:50
TRANSFORMERS: AGE OF EXTINCTION 3D: 12:10, 3:50
Minor Theatre
CHEF: 3:50, 6:30, 9:10
IDA: 3:10, 5:15, 7:20
OBVIOUS CHILD: 4:55, 7:10, 9:20
ROVER: 9:20
TRANSFORMERS: AGE OF EXTINCTION 2D: 4:25, 8:00