Lowdown: Battling KFC's Factory Farming With Bluegrass (VIDEO)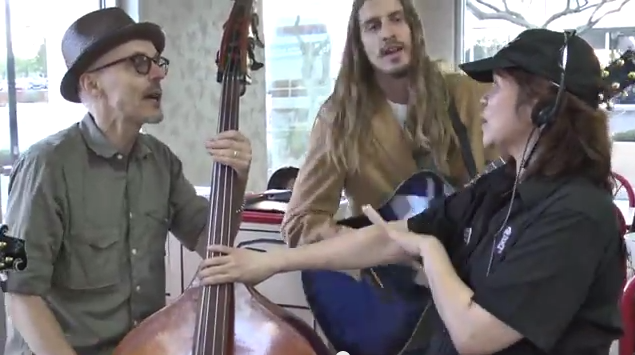 (Above: When bluegrass attacks.)
The ol' Eureka Inn's on a slight roll.
Tuesday night The Palm Lounge will again try to capture the same off night magic that was on full display Sunday for the packed La Luz show when local "face melt torch country" group Gunsafe share the stage with returning Arizona punkgrass posse The Haymarket Squares.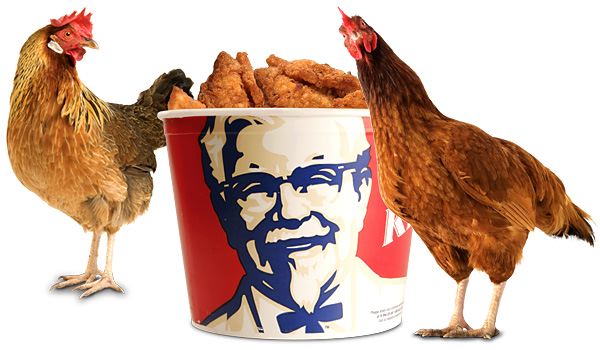 Random Haymarket Squares trivia: The band members are not fans of factory farming. I mean, who is, really? The difference between you and the Squares is that they staged a confrontational bluegrass flash mob in their local KFC to perform their protest song "Down on the Farm." A lyrical sample:
"Meet the product of laboratory tests,
Stuffed in cages, a maze of metal nests
Drunk on hormones, they grow 'til their grotesque
It barely passes for life. And at the end a butcher's knife

They're just animals, what's the harm?
Another day of dirty work down on the farm."
Needless to say, KFC was not pleased a evidenced in the video below. But you are not KFC. Thus, you may be if you drag your ears to The Palm. Other more bucket o' chicken-friendly Tuesday night options in your Lowdown below.
-Andrew Goff
The Lowdown Fun Committee
Godlin Gets Behind
Events
Sophistafunk
The Jam / 10 p.m. / $7 / $5 adv. / 21+
"Rooted by old school funk / hip hop, the trio explores electronic dance grooves while infusing each tune with soul and positively charged lyrics."
822-4766 / Web site / View Comments
Movie Showtimes
Broadway Cinema
12 YEARS A SLAVE: 2:50, 8:40
AUGUST: OSAGE COUNTY: 12:10, 3:05, 6:00, 8:55
CAPTAIN PHILLIPS: 12:00, 5:40
DALLAS BUYERS CLUB: 3:00
DEVIL S DUE: 12:20, 2:35, 4:55, 7:20, 9:40
FROZEN 2D: 12:40, 6:15
GRAVITY 3D: 3:25, 9:15
HER: 12:25, 3:20, 6:10, 9:05
HOBBIT: THE DESOLATION OF SMAUG 2D: 11:55
HOBBIT: THE DESOLATION OF SMAUG 3D: 5:45
JACK RYAN: SHADOW RECRUIT: 1:10, 3:50, 6:30, 9:10
LEGEND OF HERCULES 2D: 4:20, 9:25
LEGEND OF HERCULES 3D: 1:45, 6:55
LONE SURVIVOR: 12:15, 3:10, 6:05, 9:00
NUT JOB 2D: 2:05, 4:20, 6:35
NUT JOB 3D: 11:50, 8:45
PARANORMAL ACTIVITY: THE MARKED ONES: 3:35, 9:30
RIDE ALONG: 1:55, 4:25, 6:55, 9:25
SAVING MR BANKS: 3:15, 8:50
WOLF OF WALL STREET: 11:50, 5:45
Mill Creek Cinema
ANCHORMAN 2: THE LEGEND CONTINUES: 2:55, 9:25
DEVIL S DUE: 4:50, 7:10, 9:30
FROZEN 2D: 3:15
GRAVITY 3D: 3:20, 9:00
HOBBIT: THE DESOLATION OF SMAUG 3D: 5:35
JACK RYAN: SHADOW RECRUIT: 4:00, 6:35, 9:10
LONE SURVIVOR: 3:10, 6:05, 8:55
NUT JOB 2D: 3:30, 5:50
NUT JOB 3D: 8:00
RIDE ALONG: 4:15, 6:45, 9:15
SAVING MR BANKS: 5:55, 8:45
WOLF OF WALL STREET: 5:40
Minor Theatre
INSIDE LLEWYN DAVIS: 4:00, 6:35, 9:10
JACK RYAN: SHADOW RECRUIT: 3:25, 6:00, 8:40
NEBRASKA: 3:40, 6:20, 9:00