Tuesday's Lowdown: Savage Henry Convinces Another Comedian To Brave 101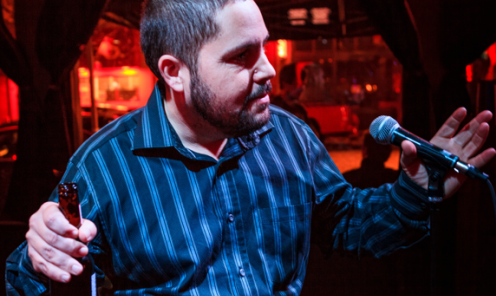 Somehow, someway, the Savage Henry empire. Of course they publish their monthly bathroom reader filled with stories of bathroom experiences. Yes, they produce a fairly weekly podcast. Most recently they've branched into YouTube series (which reminds us, the third episode of Dutch Does … at Trees of Mystery is ready for your critiques). But what matters to us most here in Lowdown land is that they consistently push fresh, live regional and/or local comedians onto Humboldt stages. Yuk, you.

The latest example: S.H.I.T. will enhance your Tuesday if you allow them when they invade HumBrews for a show headlined by (we'll go with) "dark" Portland comedian Lonnie Bruhn. Over his two decades of standing in front of people, Bruhn has headlined national comedy festivals, been banned from his hometown's only comedy club and continued to up the sum honesty in his act, which includes discussion of weird sex, suicide and Bruhn's own experiences living with cerebral palsy.
Is Bruhn's brand of funny for you? Maybe. Humboldtians can get to know him a bit better when chats on 94.1 KSLG with Sherae O'Shaughnessy sometime around 10:30 a.m. (We'll post the audio here when the dust has settled.) Less edgy options in your Lowdown below.
-Andrew Goff
# # #
UPDATE: As promised, hang out with Sherae, Lonnie and local comedian Joe Deschaine below:
The Lowdown Fun Committee
Godlin Gets Behind
Events
Red Molly
Arcata Playhouse / 8 p.m. / $18 / $16 members
"Since 2004, Americana trio Red Molly has been bringing audiences to their feet with gorgeous three-part harmonies, crisp musicianship, and their warm, engaging stage presence."
822-1575 / info@arcataplayhouse.org / Web site / View Comments
Movie Showtimes
Broadway Cinema
47 RONIN 2D: 3:25, 9:15
47 RONIN 3D: 12:30, 6:20
AMERICAN HUSTLE: 2:20, 5:30, 8:40
ANCHORMAN 2: THE LEGEND CONTINUES: 3:15, 9:20
FROZEN 2D: 12:00, 2:35, 5:15, 7:50
HER: 12:25, 3:20, 6:15, 9:10
HOBBIT: THE DESOLATION OF SMAUG 2D: 1:20, 8:30
HOBBIT: THE DESOLATION OF SMAUG 3D: 4:55
HUNGER GAMES: CATCHING FIRE: 12:00, 6:10
LEGEND OF HERCULES 2D: 4:20, 9:30
LEGEND OF HERCULES 3D: 1:45, 6:55
LONE SURVIVOR: 12:15, 3:10, 6:05, 9:00
PARANORMAL ACTIVITY: THE MARKED ONES: 12:35, 2:40, 4:50, 7:10, 9:30
SAVING MR BANKS: 11:55, 2:55, 5:55, 8:50
SECRET LIFE OF WALTER MITTY: 11:50, 5:25, 8:15
WALKING WITH DINOSAURS 2D: 12:45, 3:00
WOLF OF WALL STREET: 12:20, 4:10, 8:00
Mill Creek Cinema
47 RONIN 2D: 9:10
47 RONIN 3D: 3:30
AMERICAN HUSTLE: 5:35, 8:45
ANCHORMAN 2: THE LEGEND CONTINUES: 3:40, 6:30, 9:20
FROZEN 2D: 3:00
HOBBIT: THE DESOLATION OF SMAUG 2D: 8:05
HOBBIT: THE DESOLATION OF SMAUG 3D: 4:30
LONE SURVIVOR: 3:10, 6:05, 9:00
PARANORMAL ACTIVITY: THE MARKED ONES: 4:50, 7:10, 9:30
SAVING MR BANKS: 2:55, 5:55, 8:50
SECRET LIFE OF WALTER MITTY: 6:25
WOLF OF WALL STREET: 3:55, 7:50
Minor Theatre
AMERICAN HUSTLE: 5:20, 8:30
INSIDE LLEWYN DAVIS: 4:00, 6:35, 9:10
NEBRASKA: 3:35, 6:15, 9:00