Sunday, Feb. 23's Lowdown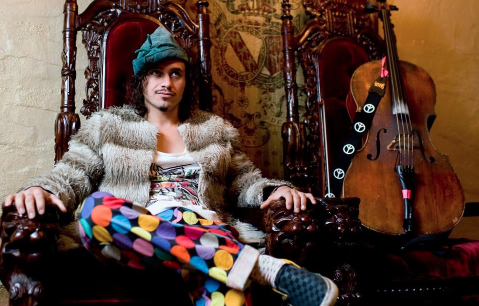 If a portion of your job requires you to frequently wade through painful musical artist bios (your band features banjo. Please stop trying to fool us by throwing out every genre that isn't bluegrass. You are bluegrass) it's nice when you come across one that playfully actually describes the performer in question.
For example, after watching the video of Rushad Eggleston below your Lowdown's noggin was flooded with colorful adjectives with which to describe the colorful performer who'll play a free show Sunday at the Robert Goodman Wines Tasting Room. But then we checked Eggleston's Facebook page which describes him as "an imaginative nomadic wild cello goblin, ambassador of sneth, and spreader of joy through melodies, songs, mythical languages and rogue vibrations."
That's pretty good. We'll go with that. Have it confirmed below.
-Andrew Goff
The Lowdown Fun Committee
Andy Approves
Events
Movie Showtimes
Broadway Cinema
3 DAYS TO KILL: 12:35, 3:50, 6:40, 9:10
ABOUT LAST NIGHT: 1:40, 4:10, 6:45, 9:20
ENDLESS LOVE: 12:30, 3:10, 5:45, 8:25
FROZEN 2D: 12:10, 5:20
I FRANKENSTEIN 2D: 9:25
LEGO MOVIE 2D: 11:55, 1:00, 2:30, 3:55, 5:05, 7:40
LEGO MOVIE 3D: 12:00, 6:20
LONE SURVIVOR: 2:25, 5:15, 8:10
MONUMENTS MEN: 12:05, 3:00, 5:55, 8:50
PHILOMENA: 2:45, 8:00
POMPEII 2D: 1:15, 6:30
POMPEII 3D: 3:40, 9:00
RIDE ALONG: 2:20, 4:45, 7:10, 9:35
ROBOCOP: 12:10, 2:55, 5:50, 8:40
WINTER S TALE: 12:15, 3:05, 6:05, 8:55
Mill Creek Cinema
3 DAYS TO KILL: 12:20, 3:10, 6:00, 8:50
ENDLESS LOVE: 1:35, 4:10, 6:50, 9:25
FROZEN 2D: 12:15, 3:00
LEGO MOVIE 2D: 1:30, 4:05, 6:40
LONE SURVIVOR: 5:40, 8:30
MONUMENTS MEN: 12:30, 3:20, 6:10, 9:00
POMPEII 2D: 1:10, 6:30
POMPEII 3D: 3:50, 9:10
RIDE ALONG: 9:15
ROBOCOP: 12:10, 3:05, 5:55, 8:45
WINTER S TALE: 12:05, 2:55, 5:45, 8:35
Minor Theatre
3 DAYS TO KILL: 1:10, 3:50, 6:30, 9:10
HER: 12:40, 6:10
PHILOMENA: 1:00, 3:35, 6:00, 8:25
WINTER S TALE: 3:25, 9:00