The Wiyot Tribe's Special Saturday Night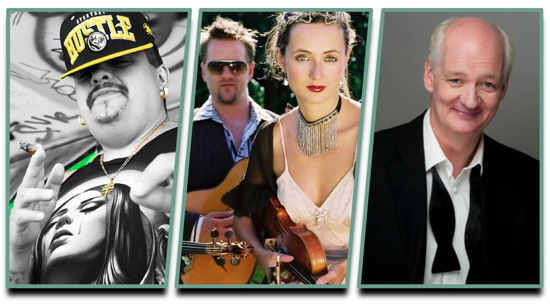 After spending a day out in the beautiful Humboldt Saturday sun (you did that, right?) there's no shortage of fun to be had once darkness falls. Scroll your Lowdown below for more on the high profile shows -- to name the few visually referenced above, hemp-hoppers Los Marijuanos at the Mateel Community Center, Roma roots music group Fishtank Ensemble at the Arcata Playhouse and Whose Line Is It Anyway? alum Colin Mochrie and Brad Sherwood at the Van Duzer Theatre. Be not bored, HumCo.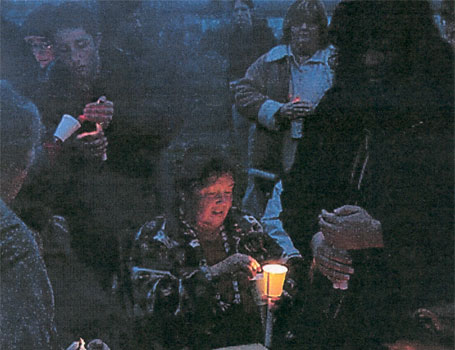 Also of note, this evening the Wiyot Tribe will hold its final annual Candlelight Vigil remembering ancestors massacred on Indian Island back in 1860, an event held each February since 1992. The discontinuation of the gathering coincides with plans to resurrect the tribe's World Renewal Ceremony this coming March. The event has not been held since the infamous slaughter occurred.
Should be a pretty special night.
-Andrew Goff
The Lowdown Fun Committee
Andy Approves
Events
Movie Showtimes
Broadway Cinema
3 DAYS TO KILL: 12:35, 3:50, 6:40, 9:10
ABOUT LAST NIGHT: 1:40, 4:10, 6:45, 9:20
ENDLESS LOVE: 12:30, 3:10, 5:45, 8:25
FROZEN 2D: 12:10, 5:20
I FRANKENSTEIN 2D: 9:25
LEGO MOVIE 2D: 11:55, 1:00, 2:30, 3:55, 5:05, 7:40
LEGO MOVIE 3D: 12:00, 6:20
LONE SURVIVOR: 2:25, 5:15, 8:10
MONUMENTS MEN: 12:05, 3:00, 5:55, 8:50
PHILOMENA: 2:45, 8:00
POMPEII 2D: 1:15, 6:30
POMPEII 3D: 3:40, 9:00
RIDE ALONG: 2:20, 4:45, 7:10, 9:35
ROBOCOP: 12:10, 2:55, 5:50, 8:40
WINTER S TALE: 12:15, 3:05, 6:05, 8:55
Mill Creek Cinema
3 DAYS TO KILL: 12:20, 3:10, 6:00, 8:50
ENDLESS LOVE: 1:35, 4:10, 6:50, 9:25
FROZEN 2D: 12:15, 3:00
LEGO MOVIE 2D: 1:30, 4:05, 6:40
LONE SURVIVOR: 5:40, 8:30
MONUMENTS MEN: 12:30, 3:20, 6:10, 9:00
POMPEII 2D: 1:10, 6:30
POMPEII 3D: 3:50, 9:10
RIDE ALONG: 9:15
ROBOCOP: 12:10, 3:05, 5:55, 8:45
WINTER S TALE: 12:05, 2:55, 5:45, 8:35
Minor Theatre
3 DAYS TO KILL: 1:10, 3:50, 6:30, 9:10
HER: 12:40, 6:10
PHILOMENA: 1:00, 3:35, 6:00, 8:25
WINTER S TALE: 3:25, 9:00