Lowdown: How Do You Pronounce 'Ngaio'? (VIDEO)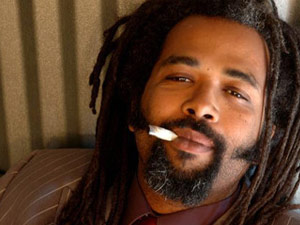 As hilarious as Speed Dating Night at Six Rivers Brewery has the potential to be, your best Thursday night chuckle chance will likely be found at Humboldt Brews.
These days Ngaio Bealum has fashioned himself as "the cannabis comic." In addition to headlining traditional comedy venues, he's performed for the stony masses at the Emerald Cup, as well as various Hemp Fests. His sets often straddle a line between stand up and witty marijuana activism. If Humboldt was looking to sponsor a comedian, this just might be our guy.
You can confirm his credentials tonight. In the meantime, the 1994 clip of Bealum the Lowdown dug up below serves a few purposes. First, it shows our man in a much different stage of his career. But maybe more importantly, he begins by sharing the proper pronunciation of 'Ngaio.' For those of you who've only read his name on posters around HumCo for the past few weeks, this may come in handy if you run into Bealum in the parking lot after the show and you're trying to score rolling papers.
-Andrew Goff
The Lowdown Fun Committee
Andy Approves
Events
Movie Showtimes
Broadway Cinema
ABOUT LAST NIGHT: 1:35, 4:05, 6:40, 9:15
AUGUST: OSAGE COUNTY: 2:15, 5:10, 8:05
ENDLESS LOVE: 12:35, 3:10, 5:45, 8:25
FROZEN 2D: 1:30, 4:10
I FRANKENSTEIN 2D: 7:15
I FRANKENSTEIN 3D: 2:35
LEGO MOVIE 2D: 11:55, 12:55, 2:30, 5:05, 6:05, 7:40
LEGO MOVIE 3D: 12:00, 3:30, 8:40
LONE SURVIVOR: 2:20, 5:20, 8:15
MONUMENTS MEN: 12:05, 3:00, 5:55, 8:50
RIDE ALONG: 1:55, 4:25, 6:55, 9:25
ROBOCOP: 12:30, 3:20, 6:15, 9:05
THAT AWKWARD MOMENT: 4:55, 9:35
VAMPIRE ACADEMY: 6:50, 9:30
WINTER S TALE: 12:10, 3:05, 6:00, 8:55
Mill Creek Cinema
ENDLESS LOVE: 1:20, 4:00, 6:35, 9:10
FROZEN 2D: 1:50, 4:30
LEGO MOVIE 2D: 12:20, 2:55, 5:30
LEGO MOVIE 3D: 8:00
LONE SURVIVOR: 1:05, 6:30
MONUMENTS MEN: 12:30, 3:20, 6:10, 9:00
RIDE ALONG: 1:40, 4:15, 6:45, 9:15
ROBOCOP: 12:10, 3:05, 5:55, 8:45
THAT AWKWARD MOMENT: 7:05, 9:30
VAMPIRE ACADEMY: 3:55, 9:20
WINTER S TALE: 12:00, 2:45, 5:40, 8:30
Minor Theatre
HER: 3:10, 6:00, 8:50
PHILOMENA: 3:20, 5:50, 8:15
WINTER S TALE: 3:30, 6:15, 9:00