Wednesday, Feb. 12, 2014's Lowdown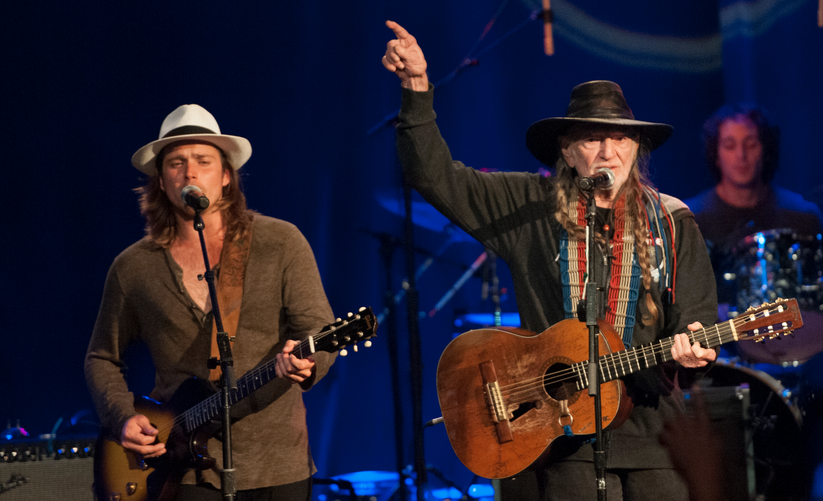 (Above: Lukas Nelson and his dad.)
For better or worse, Lukas Nelson will always be Willie's kid. Yes, his band Promise of the Real has been playing high-energy shows on big stages since their genesis -- many nights opening for his father -- but there has to be a blessing/curse element to having a larger-than-life padre. Here's how we knee-jerk read the positives and negatives of possessing such genes:
Pro: Obviously, being the child of someone famous affords you opportunities to have your projects recognized and appreciated that others with less-gilded surnames may never receive. (Evidence: See video of Nelson on Conan below.
Con: Naturally, people are always going to questioning if you'd actually reached the heights of fame you enjoy if you weren't the offspring of a country legend. Willie's is a long shadow.
Does Lukas possess the chops? Humboldtians can judge for themselves at HumBrews tonight. Or scroll through performers with less royal DNA in your Wednesday Lowdown below.
-Andrew Goff
The Lowdown Fun Committee
Andy Approves
Events
California's Changing Places
Van Duzer Theater / 7 p.m. / Free
"California Environmental Legacy Project-produced a set of films that explore our past, present and future relationship with California's natural environment. Narrated by award-winning actress Jane Fonda and with an original score by legendary musician Pat Metheny."
826-3928 / Web site / View Comments
Dry Branch Fire Squad
Arcata Playhouse / 8 p.m. / $18 / $15 members
"For more than a quarter of a century Dry Branch Fire Squad has played aggressively traditional bluegrass, capturing the soul of American music. Along with performing their authentic Appalachia-inspired songs, bandleader Ron Thomason captivates audiences with his hilarious stories."
822-1575 / Web site / View Comments
Movie Showtimes
Broadway Cinema
AUGUST: OSAGE COUNTY: 12:10, 3:05, 6:00, 8:55
FROZEN 2D: 1:30
FROZEN SING A LONG: 4:05
I FRANKENSTEIN 2D: 4:55, 9:40
I FRANKENSTEIN 3D: 2:35, 7:20
JACK RYAN: SHADOW RECRUIT: 6:40, 9:15
LABOR DAY: 12:35, 3:15, 5:55, 8:35
LEGO MOVIE 2D: 11:55, 12:55, 2:30, 5:05, 6:05, 7:40
LEGO MOVIE 3D: 12:00, 3:30, 8:40
LONE SURVIVOR: 12:20, 3:10, 6:10, 9:00
MONUMENTS MEN: 12:05, 3:00, 5:55, 8:50
RIDE ALONG: 1:55, 4:25, 6:55, 9:25
ROBOCOP: 12:30, 3:20, 6:15, 9:05
THAT AWKWARD MOMENT: 2:15, 4:40, 7:05, 9:30
VAMPIRE ACADEMY: 1:10, 3:50, 6:30, 9:10
Mill Creek Cinema
FROZEN 2D: 3:15
JACK RYAN: SHADOW RECRUIT: 5:50, 8:30
LEGO MOVIE 2D: 2:55, 5:30
LEGO MOVIE 3D: 8:00
LONE SURVIVOR: 3:20, 6:00, 8:50
MONUMENTS MEN: 3:10, 6:05, 9:00
RIDE ALONG: 4:15, 6:45, 9:15
ROBOCOP: 3:05, 5:55, 8:45
THAT AWKWARD MOMENT: 4:45, 7:10, 9:30
VAMPIRE ACADEMY: 3:50, 6:30, 9:10
Minor Theatre
HER: 3:10, 6:00, 8:50
LABOR DAY: 3:50, 6:30, 9:10
PHILOMENA: 3:25, 5:50, 8:15