The Comedian Performing at HumBrews Tonight Was in a Scorsese Movie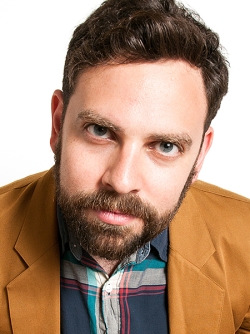 Ooo la la! Have we ever had a comedian take the Humboldt stage who has worked with Martin Scorsese before? Seems unlikely.
Our fair county can check that box after tonight's latest Savage Henry comedy night at Humboldt Brews which will be headlined by Barry Rothbart. In addition to performing on The Tonight Show and Conan, our man somehow managed to land a role as an asshole stockbroker in The Wolf of Wall Street. Dayum.
Does being in critically acclaimed films make you funnier? Maybe! Judge for yourself Tuesday night and/or preview his yuks in this clip from Conan below.
--Andrew Goff
Events
Savage Henry Comedy Presents
Humboldt Brews / 9 p.m. / $10 / 21+
Featuring Barry Rothbart, a comic actor and writer voted Top Ten Comics to watch by Variety Magazine in 2013 and perhaps best known most recently for his roles in Wolf of Wall Street (2013), Conan (TV Series) and MTV's Punk'd (2011). Danny Solomon and Dutch Savage open.
826-2739 / Web site / View Comments
Dirty Artichokes
The Jam / 10 p.m. / $5 / 21+
"Una cosa è certa, l'idea di fondo è la musica irlandese e l'obbiettivo è riuscire a coniugarla con strumenti più moderni e suoni rock e punk."
822-4766 / Web site / View Comments
Movie Showtimes
Broadway Cinema
DAWN OF THE PLANET OF THE APES 2D: 2:45, 8:10
EXPENDABLES 3: 12:25, 3:20, 6:15, 9:10
GIVER: 12:50, 3:15, 5:45, 8:15
GUARDIANS OF THE GALAXY 2D: 12:40, 3:35, 6:35, 9:25
GUARDIANS OF THE GALAXY 3D: 2:40, 8:00
HERCULES 2D: 12:20, 5:40
HUNDRED-FOOT JOURNEY: 12:05, 2:55, 5:55, 8:45
INTO THE STORM: 12:00, 2:15, 4:35, 6:55, 9:15
LET S BE COPS: 1:30, 4:10, 6:50, 9:30
LUCY: 2:30, 4:50, 7:15, 9:40
STEP UP ALL IN 2D: 1:05, 3:40, 6:10, 8:50
TEENAGE MUTANT NINJA TURTLES 2D: 11:55, 1:15, 3:50, 6:25, 9:00
TEENAGE MUTANT NINJA TURTLES 3D: 12:10, 5:30
WHAT IF: 1:00, 3:30, 6:00, 8:30
Mill Creek Cinema
DAWN OF THE PLANET OF THE APES 2D: 5:30, 8:30
EXPENDABLES 3: 12:05, 3:00, 5:55, 8:50
GIVER: 12:40, 3:10, 5:35, 8:05
GUARDIANS OF THE GALAXY 2D: 12:30, 3:20, 6:15, 9:10
GUARDIANS OF THE GALAXY 3D: 2:40
HUNDRED-FOOT JOURNEY: 11:55, 2:50, 5:45, 8:40
INTO THE STORM: 12:00, 2:20, 4:40, 7:00, 9:25
LET S BE COPS: 1:25, 3:55, 6:35, 9:15
TEENAGE MUTANT NINJA TURTLES 2D: 1:15, 3:50, 6:25, 9:00
TEENAGE MUTANT NINJA TURTLES 3D: 12:10
Minor Theatre
BOYHOOD: 4:25, 8:00
GUARDIANS OF THE GALAXY 2D: 3:20, 6:10, 9:00
HUNDRED-FOOT JOURNEY: 3:40, 6:25, 9:10