Tuesday's Lowdown: Cancelations, Bands and Yuks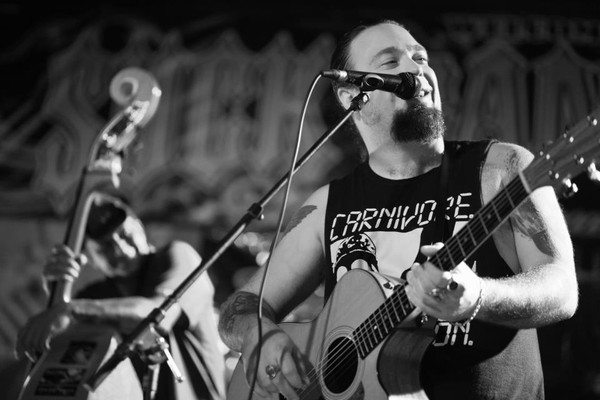 We'll start off Tuesday's Lowdown noting that on of the more notable shows scheduled in Humboldt for this night — that being southern blues rocker JB Beverly at the Palm Lounge — has been canceled due to van bummers. So … bummer.
But never fear, HumCo fun-seekers: Those still salivating for bands will find at least three at both the Lil' Red Lion and the Ink Annex, respectively. Breathe easy, kids.
Also Tuesday, Savage Henry Magazine hosts out-of-town standup comedians Barbara Gray and Dave Ross, the latter of whom hosts a podcast on the Nerdist network. The two headline the Him and Her Comedy Tour at HumBrews also featuring Humboldt standup veterans Cornell Reid, Ivy Vasquez and Zeke Herrera. Watch Ross discuss the horrendousness of the first standup bit he ever attempted in the clip below.
--Andrew Goff
The Lowdown Fun Committee
Andy Approves
Events
Him and Her Comedy Tour
Humboldt Brews / 9 p.m. / $10 / 21+
"Dave Ross is a comedian and storyteller in Los Angeles, CA. He is the host of the podcast Terrified on the Nerdist Network and a MOTH GrandSlam winner. Barbara Gray has quickly made a name for herself in the alternative comedy scene of Los Angeles, mad crushin' it. They make funny at HumBrews."
826-2739 / Web site / View Comments
Movie Showtimes
Broadway Cinema
22 JUMP STREET: 9:20
AMERICA: 3:50, 8:50
AND SO IT GOES: 1:20, 6:25
DAWN OF THE PLANET OF THE APES 2D: 12:00, 6:00, 9:00
DAWN OF THE PLANET OF THE APES 3D: 2:55
GET ON UP: 11:55, 3:00, 6:05, 9:15
GUARDIANS OF THE GALAXY 2D: 12:40, 3:35, 6:30, 9:25
GUARDIANS OF THE GALAXY 3D: 11:50, 2:40, 5:35, 8:30
HERCULES 2D: 4:00, 9:10
HERCULES 3D: 1:25, 6:35
HOW TO TRAIN YOUR DRAGON 2 2D: 1:10, 3:45
LUCY: 12:10, 2:30, 4:50, 7:15, 9:40
MALEFICENT 2D: 12:15, 2:45
PLANES: FIRE AND RESCUE 2D: 12:05, 2:25, 4:45, 7:00
PURGE: ANARCHY: 1:55, 4:30, 7:05, 9:40
SEX TAPE: 2:05, 4:35, 7:10, 9:30
TAMMY: 6:15, 8:45
TRANSFORMERS: AGE OF EXTINCTION 2D: 5:10, 8:35
Mill Creek Cinema
AND SO IT GOES: 1:50, 6:55
DAWN OF THE PLANET OF THE APES 2D: 12:00, 3:00, 6:00, 9:00
GET ON UP: 1:55, 5:15, 8:25
GUARDIANS OF THE GALAXY 2D: 12:30, 3:20, 6:15, 9:10
GUARDIANS OF THE GALAXY 3D: 11:50, 2:40, 5:30, 8:20
HERCULES 2D: 3:30, 8:35
HERCULES 3D: 1:00, 6:05
LUCY: 12:10, 2:30, 4:50, 7:10, 9:30
PLANES: FIRE AND RESCUE 2D: 11:55, 2:05, 4:15, 6:30, 8:40
PURGE: ANARCHY: 4:20, 9:20
Minor Theatre
GUARDIANS OF THE GALAXY 2D: 3:20, 6:10, 9:00
MOST WANTED MAN: 3:05, 5:50, 8:35
WISH I WAS HERE: 3:50, 6:30, 9:10