Regina Carter at Van Duzer Tonight (VIDEO)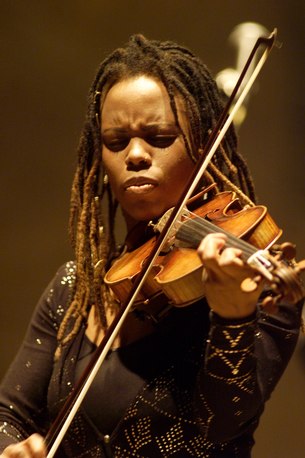 CenterArts 2013/2014 season is nearing its end. Tuesday night's performance by Regina Carter is your second to last chance to soak up some critically acclaimed culture in the JVD until next season — Bela Fleck once again machine guns notes at you on May 14 in the final show of the school year.
As for Carter, over the years the jazz violinist has lent her sounds to major pop music forces such as Aretha Franklin, Billy Joel, Lauryn Hill, Mary J. Blige and Dolly Parton. These days she's focusing on her solo work, most recently with the release of her album Southern Comfort. A mini doc about the creation of her most recent set of songs can be YouTubed below.
-Andrew Goff
Events
Movie Showtimes
Broadway Cinema
BEARS: 12:00, 2:15, 4:25, 6:35, 8:45
BRICK MANSIONS: 1:55, 4:30, 6:55, 9:20
CAPTAIN AMERICA: THE WINTER SOLDIER 2D: 11:50, 2:50, 5:55, 9:00
DIVERGENT: 2:35, 8:25
DRAFT DAY: 12:05, 5:45
GOD S NOT DEAD: 12:35, 6:05
GRAND BUDAPEST HOTEL: 1:45, 4:20, 6:50, 9:25
HAUNTED HOUSE 2: 12:30, 2:45, 5:10, 7:25, 9:40
HEAVEN IS FOR REAL: 12:40, 3:20, 6:00, 8:35
OCULUS: 3:25, 8:50
OTHER WOMAN: 12:45, 3:30, 6:20, 9:05
QUIET ONES: 2:05, 4:35, 7:05, 9:35
RIO 2 2D: 12:15, 2:55, 5:35, 8:10
TRANSCENDENCE: 12:25, 3:15, 6:15, 9:10
Mill Creek Cinema
BEARS: 4:25, 6:35, 8:40
BRICK MANSIONS: 4:50, 7:10, 9:30
CAPTAIN AMERICA: THE WINTER SOLDIER 2D: 6:00, 9:00
CAPTAIN AMERICA: THE WINTER SOLDIER 3D: 3:00
HAUNTED HOUSE 2: 4:55, 7:15, 9:35
HEAVEN IS FOR REAL: 3:20, 5:55, 8:30
OTHER WOMAN: 3:35, 6:20, 9:05
RIO 2 2D: 3:10, 5:45, 8:20
TRANSCENDENCE: 3:40, 6:30, 9:20
Minor Theatre
CAPTAIN AMERICA: THE WINTER SOLDIER 2D: 5:45, 8:50
GRAND BUDAPEST HOTEL: 4:10, 6:40, 9:10
TRANSCENDENCE: 3:25, 6:10, 9:00