Humboldt's Spam Sunday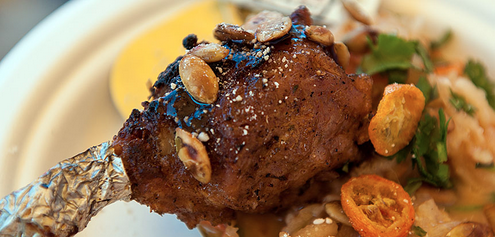 You can make delicious looking dishes with Spam, apparently!
If your mind is open and your stomach empty, then head on over to Redwood Fields on Sunday for the Spamly Cup Cook-Off. There, top chefs from a variety of local restaurants will compete to most adequately convert you to believe in the potential of the infamous canned meat product. Here's the capper: All proceeds will benefit Humboldt CASA's work to advocate for local foster children.
To see some photos from last year's event, click here. Or peruse the rest of your Sunday Lowdown below. -AG
The Lowdown Fun Committee
Godlin Gets Behind
Events
Spamley Cup Cook-Off!
Redwood Fields / 1 p.m.
Top chefs from a variety of local restaurants compete to make their best SPAM dish. All proceeds will benefit Humboldt CASA's work to advocate for local foster children. Rain or shine.
445-5956 / View Comments
Movie Showtimes
Broadway Cinema
BEARS: 12:00, 2:15, 4:25, 6:35, 8:45
BRICK MANSIONS: 1:55, 4:30, 6:55, 9:20
CAPTAIN AMERICA: THE WINTER SOLDIER 2D: 11:50, 2:50, 5:55, 9:00
DIVERGENT: 2:35, 8:25
DRAFT DAY: 12:05, 5:45
GOD S NOT DEAD: 12:35, 6:05
GRAND BUDAPEST HOTEL: 1:45, 4:20, 6:50, 9:25
HAUNTED HOUSE 2: 12:30, 2:45, 5:10, 7:25, 9:40
HEAVEN IS FOR REAL: 12:40, 3:20, 6:00, 8:35
OCULUS: 3:25, 8:50
OTHER WOMAN: 12:45, 3:30, 6:20, 9:05
QUIET ONES: 2:05, 4:35, 7:05, 9:35
RIO 2 2D: 12:15, 2:55, 5:35, 8:10
TRANSCENDENCE: 12:25, 3:15, 6:15, 9:10
Mill Creek Cinema
BEARS: 12:05, 2:15, 4:25, 6:35, 8:40
BRICK MANSIONS: 12:10, 2:30, 4:50, 7:10, 9:30
CAPTAIN AMERICA: THE WINTER SOLDIER 2D: 12:00, 6:00, 9:00
CAPTAIN AMERICA: THE WINTER SOLDIER 3D: 3:00
HAUNTED HOUSE 2: 12:25, 2:40, 4:55, 7:15, 9:35
HEAVEN IS FOR REAL: 12:40, 3:20, 5:55, 8:30
OTHER WOMAN: 12:55, 3:35, 6:20, 9:05
RIO 2 2D: 12:35, 3:10, 5:45, 8:20
TRANSCENDENCE: 12:50, 3:40, 6:30, 9:20
Minor Theatre
CAPTAIN AMERICA: THE WINTER SOLDIER 2D: 2:40, 5:45, 8:50
GRAND BUDAPEST HOTEL: 1:40, 4:10, 6:40, 9:10
TRANSCENDENCE: 12:40, 3:25, 6:10, 9:00