Your Humboldt Thursday: Prezidents, Pleasure, Mermaids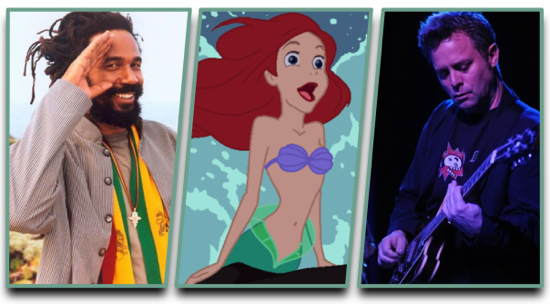 Your Humboldt Thursday is highlighted with continuing events — we've already discussed current tall ship tours, birding gatherings and student-run film festivals in previous Lowdowns — but also some good one-offs:
Up at Jambalaya, Brooklyn-based three-piece band Pleasure Drones play an almost mathematical funk and are fronted by the unique guitar wizardry provided by Will Bernard, who previously garnered a Grammy nomination for his work in the group T.J. Kirk.
Jamaican-born, super lovey-dovey reggae star Prezident Brown will rain positivity into the ear canals of fans gathered at HumBrews this evening. Get an idea of his particular brand of roots in the clip below for his song "I Love Jah."
If you've been waiting for an opportunity to dress up like a mermaid in public (and for a good cause no less) then head on over to The Siren's Song Tavern who are hosting the DJ dancey Sailors and Mermaids fundraiser benefitting Six Rivers Planned Parenthood. Pull on your mermaid tail unless you're super addicted to strolling around on those … what's the word again? Feet?
—Andrew Goff
The Lowdown Fun Committee
Godlin Gets Behind
Events
Movie Showtimes
Broadway Cinema
CAPTAIN AMERICA: THE WINTER SOLDIER 2D: 11:50, 3:00, 6:10, 9:20
CAPTAIN AMERICA: THE WINTER SOLDIER 3D: 11:35, 2:40, 5:45, 8:50
DIVERGENT: 11:40, 2:50, 6:00, 9:10
DRAFT DAY: 12:50, 3:35, 6:20, 9:00
GOD S NOT DEAD: 12:20, 3:05, 5:50, 8:35
GRAND BUDAPEST HOTEL: 1:45, 4:20, 6:55, 9:25
HEAVEN IS FOR REAL: 12:55, 3:30, 6:05, 8:40
NOAH: 1:55, 5:05
OCULUS: 1:30, 4:10, 6:50, 9:30
RAID 2: 2:00, 5:30, 8:55
RIO 2 2D: 12:15, 2:05, 2:55, 4:45, 5:35, 8:10
RIO 2 3D: 11:30, 7:25
TRANSCENDENCE: 8:00
Mill Creek Cinema
CAPTAIN AMERICA: THE WINTER SOLDIER 2D: 2:55, 8:45, 9:20
CAPTAIN AMERICA: THE WINTER SOLDIER 3D: 5:25, 9:20
DIVERGENT: 2:50, 6:00
DRAFT DAY: 3:30, 6:15, 9:00
GOD S NOT DEAD: 6:35
MR PEABODY AND SHERMAN 2D: 4:05
NOAH: 2:40, 5:45, 8:50
OCULUS: 4:10, 6:50, 9:30
RIO 2 2D: 4:45, 6:05, 7:25, 9:40
RIO 2 3D: 2:45, 8:30
TRANSCENDENCE: 9:00
Minor Theatre
CAPTAIN AMERICA: THE WINTER SOLDIER 2D: 5:45, 8:50
GRAND BUDAPEST HOTEL: 4:10, 6:40, 9:10
LUNCHBOX: 3:40, 6:10, 8:40