Wednesday, April 16's Lowdown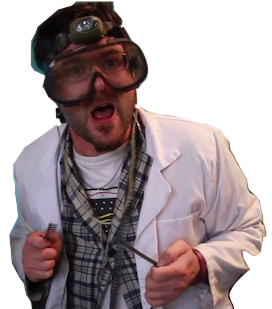 You will note that songwriter/activist Bruce Cockburn did not need a YouTube-y commercial to promote his show at the Mateel Community Center this Wednesday evening. Dude's famous enough to draw a crowd for his most recent sneeze. But a pair of local, multi-day events kicking off in Humboldt Wednesday felt they needed that extra viral bump to entice the masses.
Thus, feast your eyes on the pair of clips below. The first attempts to generate excitement for this year's installment of the Humboldt International Film Festival, long-touted as "the world's oldest student-run film festival." The event is now in its 47th year, but we'll let the mad scientist explain further:
Next up we have some promotion for the week-long Godwit Days Spring Migration Bird Festival which features nearly 100 birding-related field trips, workshops and social events. And look! They got Michael Bay to direct Godwit Days this year! Excellent!:
Scroll your Lowdown listings below for other Wednesday night gatherings, albeit with smaller A/V budgets.
—Andrew Goff
The Lowdown Fun Committee
Godlin Gets Behind
Events
Bruce Cockburn
Mateel Community Center / 8:30 a.m. / $32 / $25 at the door, standing / $22 in advance, standing / $35 at the door, main floor / $32 in advance, main floor seats
"One of the most prolific and respected folk/rock artists of our time," says the Mateel.
923-3368 / office@mateel.org / Web site / View Comments
Movie Showtimes
Broadway Cinema
CAPTAIN AMERICA: THE WINTER SOLDIER 2D: 11:50, 3:00, 6:10, 9:20
CAPTAIN AMERICA: THE WINTER SOLDIER 3D: 11:35, 2:40, 5:45, 8:50
DIVERGENT: 11:40, 2:50, 6:00, 9:10
DRAFT DAY: 12:50, 3:35, 6:20, 9:00
GOD S NOT DEAD: 12:20, 3:05, 5:50, 8:35
GRAND BUDAPEST HOTEL: 1:45, 4:20, 6:55, 9:25
HEAVEN IS FOR REAL: 12:55, 3:30, 6:05, 8:40
NOAH: 1:55, 5:05, 8:20
OCULUS: 1:30, 4:10, 6:50, 9:30
RAID 2: 2:00, 5:30, 8:55
RIO 2 2D: 12:15, 2:05, 2:55, 4:45, 5:35, 8:10
RIO 2 3D: 11:30, 7:25
Mill Creek Cinema
CAPTAIN AMERICA: THE WINTER SOLDIER 2D: 2:55, 8:45, 9:20
CAPTAIN AMERICA: THE WINTER SOLDIER 3D: 5:25, 9:20
DIVERGENT: 2:50, 6:00, 9:10
DRAFT DAY: 3:30, 6:15, 9:00
GOD S NOT DEAD: 6:35
MR PEABODY AND SHERMAN 2D: 4:05
NOAH: 2:40, 5:45, 8:50
OCULUS: 4:10, 6:50, 9:30
RIO 2 2D: 4:45, 6:05, 7:25, 9:40
RIO 2 3D: 2:45, 8:30
Minor Theatre
CAPTAIN AMERICA: THE WINTER SOLDIER 2D: 5:45, 8:50
GRAND BUDAPEST HOTEL: 4:10, 6:40, 9:10
LUNCHBOX: 3:40, 6:10, 8:40