Tuesday, April 15, 2014's Lowdown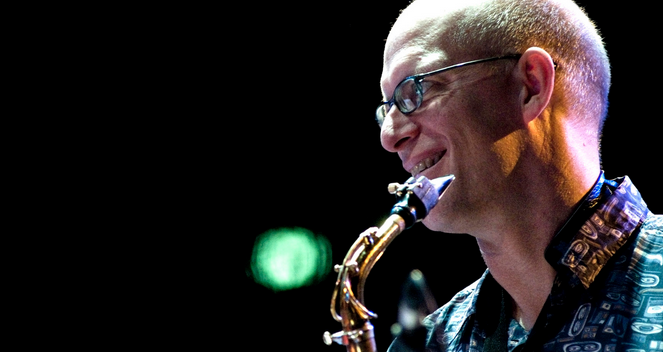 Tuesday night's offering from the Redwood Jazz Alliance sees the most recent triumphant return of saxophonist and native son Michael Moore (not the CenterArts event coordinator, nor the lefty filmmaker, if you're confused) leading his globetrotting quartet for an evening of avant-garde jazz at the Morris Graves Museum.
Those who've been keeping an eye on the Humboldt music scene for the last three-or-so decades (there have to be a few, right?) may remember that Michael and his brother Gregg teamed up in a few Eureka bands back in the day — The Persons and Joint Session, we're told they were called, but, honestly, your Lowdown wasn't yet old enough to frequent late night, Old Town jazz shows yet, so we had to look that bit of trivia up.
Scope out what MMQ is bringing to your ear table in the clip below or, if you hate jazz, scroll your Lowdown listings further down.
—Andrew Goff
-Planning for future fun? Check the Lowdown Lookahead-
Events
Movie Showtimes
Broadway Cinema
BAD WORDS: 8:40
CAPTAIN AMERICA: THE WINTER SOLDIER 2D: 11:50, 3:00, 6:10, 9:20
CAPTAIN AMERICA: THE WINTER SOLDIER 3D: 11:35, 2:40, 5:45, 8:50
DIVERGENT: 11:40, 2:50, 6:00, 9:10
DRAFT DAY: 12:50, 3:35, 6:20, 9:00
GOD S NOT DEAD: 12:20, 3:05, 5:50, 8:35
GRAND BUDAPEST HOTEL: 1:45, 4:20, 6:55, 9:25
MUPPETS MOST WANTED: 11:45, 2:30
NOAH: 1:55, 5:05, 8:20
OCULUS: 1:30, 4:10, 6:50, 9:30
RAID 2: 2:00, 5:30, 8:55
RIO 2 2D: 12:15, 2:05, 2:55, 4:45, 5:35, 8:10
RIO 2 3D: 11:30, 7:25
SON OF GOD: 5:20
Mill Creek Cinema
CAPTAIN AMERICA: THE WINTER SOLDIER 2D: 2:55, 8:45, 9:20
CAPTAIN AMERICA: THE WINTER SOLDIER 3D: 5:25, 9:20
DIVERGENT: 2:50, 6:00, 9:10
DRAFT DAY: 3:30, 6:15, 9:00
GOD S NOT DEAD: 6:35
MR PEABODY AND SHERMAN 2D: 4:05
NOAH: 2:40, 5:45, 8:50
OCULUS: 4:10, 6:50, 9:30
RIO 2 2D: 4:45, 6:05, 7:25, 9:40
RIO 2 3D: 2:45, 8:30
Minor Theatre
CAPTAIN AMERICA: THE WINTER SOLDIER 2D: 5:45, 8:50
GRAND BUDAPEST HOTEL: 4:10, 6:40, 9:10
LUNCHBOX: 3:40, 6:10, 8:40