Whether on Letterman or at HumBrews, Future Islands' Lead Singer is a Better Dancer Than You (VIDEO)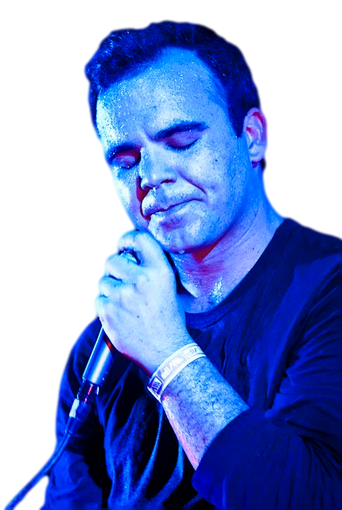 In an attempt to influence your Monday funtimes planmaking process, your Lowdown would like to present as Exhibit A the accompanying clip of synthpop band Future Islands performing on the Late Show with David Letterman about a month ago. Please note the movements and vocal inflections of lead singer Samuel Herring. What you are witnessing is what is commonly referred to as "going for it." Do you ever go for it like this? Seems like a good thing to do sometimes. Perhaps if we attend the Future Islands show at HumBrews Monday evening, some of what they got will transfer from the stage into our sponge-like souls. Then we can all go for it. Together. Forever.
You could also go bowling.
-Andrew Goff
The Lowdown Fun Committee
Andy Approves
Events
Future Islands
Humboldt Brews / 9 p.m. / $10 / 21+
Post-wave dance band from North Carolina featuring "cartwheeling synthesizer melodies tumbling across the austere wilderness of post punk bass pulse." Ed Shrader's Music Beat opens.
826-2739 / Web site / View Comments
Movie Showtimes
Broadway Cinema
300: RISE OF AN EMPIRE 2D: 1:45, 7:00
BAD WORDS: 12:00, 2:25, 4:55, 7:20, 9:40
CAPTAIN AMERICA: THE WINTER SOLDIER 2D: 11:50, 3:00, 6:10, 9:20
CAPTAIN AMERICA: THE WINTER SOLDIER 3D: 11:35, 2:45, 5:55, 9:05
DIVERGENT: 11:40, 1:25, 2:50, 4:40, 6:00, 7:55, 9:10
GOD S NOT DEAD: 12:15, 3:05, 5:50, 8:40
MR PEABODY AND SHERMAN 2D: 12:45, 3:15, 5:35
MUPPETS MOST WANTED: 11:45, 2:35, 5:25, 8:10
NEED FOR SPEED 2D: 3:35, 9:25
NOAH: 11:40, 1:10, 2:40, 4:30, 5:45, 7:45, 8:55
NON-STOP: 8:05
SABOTAGE: 4:20, 9:35
WIND RISES: 12:35, 6:30
Mill Creek Cinema
300: RISE OF AN EMPIRE 2D: 4:15, 9:30
CAPTAIN AMERICA: THE WINTER SOLDIER 2D: 3:10, 6:15, 9:20
CAPTAIN AMERICA: THE WINTER SOLDIER 3D: 4:55, 8:10
DIVERGENT: 2:50, 6:00, 9:10
GOD S NOT DEAD: 3:20, 6:05, 8:50
MR PEABODY AND SHERMAN 2D: 3:05, 5:30, 7:55
MUPPETS MOST WANTED: 2:55, 5:40, 8:20
NOAH: 2:40, 5:50, 9:00
SABOTAGE: 6:50
Minor Theatre
CAPTAIN AMERICA: THE WINTER SOLDIER 2D: 5:45, 8:50
GRAND BUDAPEST HOTEL: 4:10, 6:40, 9:10
NOAH: 5:25, 8:30