Your Classic Cover Contest Brackets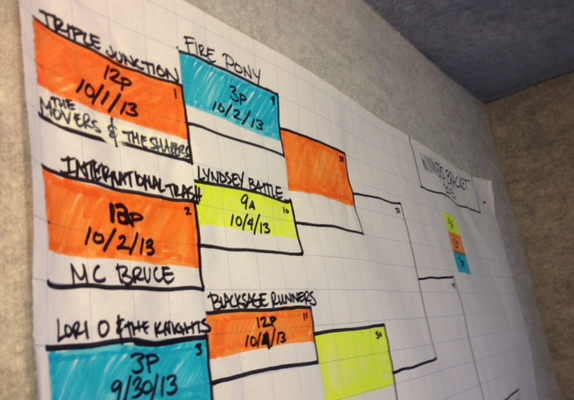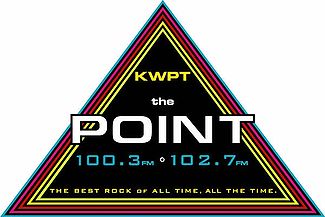 Here on the internet, we love winners and losers. We can't help but click on things which chronicle human successes and failures, especially of those closest to us.
Here is your latest chance to enjoy some of that: Starting Monday KWPT The Point begins its annual Classic Cover Contest in the hopes of bestowing one local band with gobs of glory while banishing losers back to their garages. With 24 competing entries, there will be many sorrowful garages.
During the first round of this double elimination, tournament-style aural blood fest, there are three matchups per day -- at 9 a.m., noon and 3 p.m. -- which you are tasked with voting on via phone (786-5978) or "likes." Follow the thrilling victories and harrowing defeats on KWPT's Facebook page all week and click here for the complete list of first round matchups.
(For the record, your Lost Coast Outpost is totally biased and is picking Fire Pony to win this thing. Now you know.)
Oh, stuff you can physically go do, including your continuing Humboldt Beer Week, in your Monday Lowdown below.
-Andrew Goff
Events
Movie Showtimes
Broadway Cinema
BLUE JASMINE: 1:50, 4:20, 6:50, 9:20
CLOUDY WITH A CHANCE OF MEATBALLS 2 2D: 12:05, 2:40, 5:10, 7:40
CLOUDY WITH A CHANCE OF MEATBALLS 2 3D: 12:55, 3:30, 6:00
DESPICABLE ME 2 2D: 1:10, 3:40
DON JON: 12:00, 2:20, 4:40, 7:05, 9:30
INSIDIOUS CHAPTER 2: 1:20, 4:05, 6:45, 9:25
LEE DANIELS THE BUTLER: 2:10, 5:15, 8:15
PLANES 2D: 1:05, 3:25
PRISONERS: 1:30, 4:55, 8:20
RIDDICK: 12:00, 2:50, 5:45, 8:40
RUSH: 12:15, 3:15, 6:15, 8:25, 9:15
THE FAMILY: 1:00, 3:45, 6:25, 9:10
THIS IS THE END: 5:50, 8:30
WE RE THE MILLERS: 6:10, 8:50
Mill Creek Cinema
CLOUDY WITH A CHANCE OF MEATBALLS 2 2D: 3:45, 6:15
CLOUDY WITH A CHANCE OF MEATBALLS 2 3D: 8:40
DON JON: 4:50, 7:10, 9:35
INSIDIOUS CHAPTER 2: 3:10, 5:45, 8:30
LEE DANIELS THE BUTLER: 5:20, 8:20
PRISONERS: 4:55, 8:25
RUSH: 2:55, 5:50, 8:45
THE FAMILY: 3:30, 6:10, 8:55
WE RE THE MILLERS: 4:10, 6:50, 9:30
Minor Theatre
PRISONERS: 5:20, 8:45
SPECTACULAR NOW: 3:50, 6:10, 8:30
THE FAMILY: 4:10, 6:40, 9:10