Friday, Sept. 6, 2013's Lowdown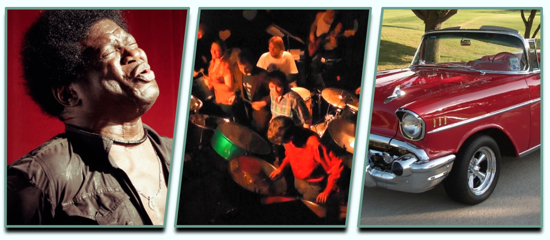 Geez. Go ahead and peruse Friday's Lowdown. Did you just get really tired? Yeah. Too much stuff going on. Just Friday, the combination of inspiring personal narrative/holy-damn raw talent that is the Charles Bradley experience blows the roof off the Van Duzer Theatre. Under the radar local music is allowed on stage over Bummerfest's two days. A herd of classic cars will graze in Eureka for your viewing pleasure during Cruz' n Eureka. Two comedy shows, an arts night, a film festival.
Again, too much.
Oh, and then there's Steel Standing. Friday night at Jambalaya, Humboldt's 10-person strong steel drum calypso orchestra celebrates the release of their first album with a "Trinidance" party. As if that wasn't incentive to shake it island-style, it should be noted that Steel Standing will soon sit down -- the group will be hanging it up and going their separate ways. (Note: In addition to Friday's show, they'll be partying in Eel River Brewery's beer garden on Sunday). Catch 'em while you can. Full Friday Lowdown below.
-Andrew Goff
The Lowdown Fun Committee
Larry Likes
Events
Movie Showtimes
Broadway Cinema
DESPICABLE ME 2 2D: 1:50, 4:20
ELYSIUM: 12:05, 2:40, 5:30, 8:15
GETAWAY: 12:15, 2:35, 4:55, 7:20, 9:40
LEE DANIELS THE BUTLER: 12:00, 3:00, 6:05, 9:05
MORTAL INSTRUMENTS: CITY OF BONES: 11:50, 2:50, 5:50, 8:50
ONE DIRECTION: THIS IS US 2D: 4:00
ONE DIRECTION: THIS IS US 3D: 1:35, 6:20, 8:45
PLANES 2D: 11:55, 2:20, 4:40, 7:00
RIDDICK: 11:55, 2:50, 5:45, 8:40, 9:20
SPECTACULAR NOW: 1:10, 3:35, 6:00, 8:30
THE WORLD S END: 12:45, 3:30, 6:15, 9:00
THIS IS THE END: 1:30, 4:10, 6:50, 9:35
WE RE THE MILLERS: 1:00, 3:45, 6:30, 9:15
YOU RE NEXT: 6:55, 9:25
Mill Creek Cinema
ELYSIUM: 1:10, 3:50, 6:30, 9:05
LEE DANIELS THE BUTLER: 12:00, 3:00, 6:00, 9:00
MORTAL INSTRUMENTS: CITY OF BONES: 12:15, 3:15, 6:20
ONE DIRECTION: THIS IS US 2D: 8:00
ONE DIRECTION: THIS IS US 3D: 1:00, 3:20, 5:40
PLANES 2D: 11:55, 2:20, 4:40
RIDDICK: 12:00, 2:55, 5:50, 8:45, 9:20
THIS IS THE END: 1:55, 4:30, 7:05, 9:40
WE RE THE MILLERS: 1:30, 4:10, 6:50, 9:30
YOU RE NEXT: 6:55, 9:20
Minor Theatre
BLACKFISH: 3:55, 6:10, 8:25
BLUE JASMINE: 4:15, 6:40, 9:10
CLOSED CIRCUIT: 4:40, 7:00, 9:20