Lowdown: Thursday's SoHum/NoHum Offerings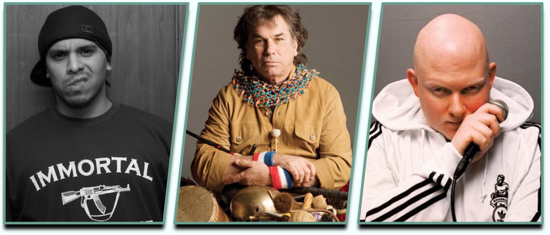 (Left to right: IT, MH, BA)
Hi! This Humboldt Thursday evening will be dominated by two high profile shows, one in SoHum and another in NoHum.
First, ears assembled at the Mateel Community Center will be filled with lyrical images of war and peace delivered by two conscious emcees. In one corner, Immortal Technique was born in Lima, Peru, raised in Harlem, did prison and now drops angry rhymes about "revolution." In the other corner, Brother Ali, who tends to be noted for his obvious uniquenesses (legally blind, albino, Muslim), but has gained a loyal audience due to his thoughtful lyrics. Both will headline tonight's show with full sets.
Meanwhile at the Arcata Theatre Lounge, famous rhythm devil Mickey Hart and band will excite the deadhead faithful -- less than a week before his 70th birthday -- with jams off his group's new album Superorganism, as well as the requisite Grateful Dead hits. Hart says of the music on his new disc:
"This time we journey into the micro, the hidden worlds of rhythm within us, within our bodies. The brain, Rhythm Central, the place of dreams is explored. My brain wave signals are reimagined in sound using a cap with electrodes that can read the throbs and signals of the brain. I have also sonified the sounds of stem cells, and heart rhythms for this recording."
There 'tis. Other options in your Thursday Lowdown below.
-Andrew Goff
The Lowdown Fun Committee
Larry Likes
Events
Movie Showtimes
Broadway Cinema
2 GUNS: 6:35, 9:20
DESPICABLE ME 2 2D: 1:50, 4:20
ELYSIUM: 12:05, 2:40, 5:30
GETAWAY: 12:15, 2:35, 4:55, 7:20, 9:40
KICK-ASS 2: 6:50, 9:25
LEE DANIELS THE BUTLER: 12:00, 3:00, 6:05, 9:05
MONSTERS UNIVERSITY 2D: 1:15, 3:55
MORTAL INSTRUMENTS: CITY OF BONES: 11:50, 2:50, 5:50, 8:50
ONE DIRECTION: THIS IS US 2D: 4:00
ONE DIRECTION: THIS IS US 3D: 1:35, 6:20, 8:45
PLANES 2D: 11:55, 2:20, 4:40, 7:00
RIDDICK: 8:00
STAR TREK INTO THE DARKNESS 2D: 12:10, 5:45
THE WORLD S END: 12:45, 3:30, 6:15, 9:00
WE RE THE MILLERS: 1:00, 3:45, 6:30, 9:15
WORLD WAR Z 2D: 3:05, 8:40
YOU RE NEXT: 2:15, 4:45, 7:10, 9:35
Mill Creek Cinema
ELYSIUM: 3:50, 6:30
KICK-ASS 2: 6:40, 9:20
LEE DANIELS THE BUTLER: 3:00, 6:00, 9:00
MONSTERS UNIVERSITY 2D: 4:00
MORTAL INSTRUMENTS: CITY OF BONES: 2:50, 5:50, 8:50
ONE DIRECTION: THIS IS US 2D: 8:00
ONE DIRECTION: THIS IS US 3D: 3:20, 5:40, 9:10
PLANES 2D: 4:40, 7:00
RIDDICK: 9:00
WE RE THE MILLERS: 4:10, 6:50, 9:30
YOU RE NEXT: 4:50, 7:15, 9:40
Minor Theatre
BLACKFISH: 3:55, 6:10, 8:25
BLUE JASMINE: 4:15, 6:40
CLOSED CIRUIT: 4:40, 7:00, 9:20
THE HARDER THEY COME: 9:00