The Siren's Song Tavern Features Good Music More Often Than Not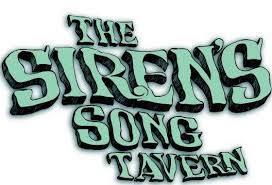 I dunno, Eureka. The Siren's Song Tavern has been kinda killing it lately as far as having frequent, consistently good out-of-town artists to aurally enhance the venue's already unique atmosphere. Bands that might play to a hundred people elsewhere are making the trek up/down 101 to play for twenty. Sucks for the band, but the lack of yakking bodies can lead to an intimate musical experience for you.
The latest potential victory plays out Monday night -- yes, Monday! -- when city folk duo The Lowest Pair fills your ears for no cover. We include a live clip of the two performing their song "Rosie" below and then ask you to imagine drinking a beer to that soundtrack.
-Andrew Goff
The Lowdown Fun Committee
Andy Approves
Events
Movie Showtimes
Broadway Cinema
CAPTAIN PHILLIPS: 11:55, 2:50, 5:55, 9:00
CARRIE: 2:05, 4:35, 7:10, 9:40
CLOUDY WITH A CHANCE OF MEATBALLS 2 2D: 1:35, 4:00, 6:25
COUNSELOR: 1:00, 3:40, 6:20, 9:05
DON JON: 12:40, 6:00, 9:35
ENOUGH SAID: 1:25, 3:55, 6:15, 8:40
ESCAPE PLAN: 12:35, 3:30, 6:30, 9:20
FIFTH ESTATE: 3:00, 8:20
GRAVITY 2D: 2:00, 6:45
GRAVITY 3D: 12:45, 3:10, 4:20, 5:35, 8:00, 9:10
JACKASS PRESENTS: BAD GRANDPA: 1:15, 2:15, 3:45, 4:40, 6:05, 7:05, 8:30, 9:30
WE RE THE MILLERS: 8:50
WIZARD OF OZ 3D: 12:00, 2:25, 4:50, 7:15
Mill Creek Cinema
CAPTAIN PHILLIPS: 5:20, 8:30
CARRIE: 4:00, 6:35, 9:10
CLOUDY WITH A CHANCE OF MEATBALLS 2 2D: 3:25, 5:50
COUNSELOR: 3:20, 6:05, 8:45
ESCAPE PLAN: 3:35, 6:15, 9:00
GRAVITY 2D: 9:20
GRAVITY 3D: 4:40, 7:00
JACKASS PRESENTS: BAD GRANDPA: 4:50, 7:10, 8:20, 9:30
WIZARD OF OZ 3D: 3:10, 5:40, 8:10
Minor Theatre
CAPTAIN PHILLIPS: 5:35, 8:40
FIFTH ESTATE: 5:45, 8:50
GRAVITY 2D: 4:40, 7:00, 9:20