Sorry, Arcata. Eureka Wins Friday #EurekaRising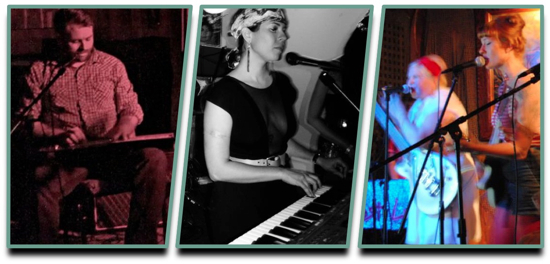 Assuming you have any energy left after chasing the man in the chicken suit around, Friday night gallivanters have the opportunity to see no less than eight (mostly) local bands on the cheap within a few Eureka blocks. If you do it right, you should be able to catch most of 'em. Here are the venues to hit, "start times" -- always subject to if the bass player showed up on time or not -- and the bands you may gawk at:
The Ink Annex, 7 p.m.: Early starters can soak up a garage band hat trick comprised of NO BUNNY, The Lost Luvs and Dirty Pillows for a suggested $5 donation.
The Siren's Song Tavern, 8:30 p.m.: Your evening's twangiest option comes in the form of rowdy Cliff Dallas and the Death Valley Troubadors who'll be supported by dreamy duo Electro Saloon.
The Palm Lounge, 10 p.m.: Absorb synthy vibes aplenty with an indie trio of groups -- Technicolor Hearts, Rider Rosie and Blood Gnome -- to close your night. Hell, stay the night.
That's a decent road map, yes? Sure, Arcata dwellers have the higher profile Shook Twins and Phutureprimitive show options. But I think Eureka wins Friday. Better luck next week, A-Town.
-Andrew Goff
The Lowdown Fun Committee
Godlin Gets Behind
Events
Movie Showtimes
Broadway Cinema
ABOUT TIME: 6:35, 9:20
BEST MAN HOLIDAY: 12:05, 3:00, 5:55, 8:50
CAPTAIN PHILLIPS: 5:20, 8:25
CLOUDY WITH A CHANCE OF MEATBALLS 2 2D: 12:30, 2:55
DALLAS BUYERS CLUB: 12:40, 3:30, 6:20, 9:10
DELIVERY MAN: 12:35, 3:20, 6:00, 8:40
ENDER S GAME: 2:45, 8:15
FREE BIRDS 2D: 11:55, 2:10, 4:25
GRAVITY 3D: 12:10, 2:35, 7:15
HUNGER GAMES: CATCHING FIRE: 12:20, 1:20, 2:20, 3:40, 4:40, 5:40, 7:00, 8:00, 9:00
JACKASS PRESENTS: BAD GRANDPA: 4:55, 9:35
LAST VEGAS: 12:50, 3:25, 6:10, 8:45
THOR: THE DARK WORLD 2D: 12:00, 3:50, 5:30, 9:20
THOR: THE DARK WORLD 3D: 1:00, 6:30
Mill Creek Cinema
DELIVERY MAN: 12:40, 3:20, 5:55, 8:30
ENDER S GAME: 1:15, 4:00, 6:45, 9:30
FREE BIRDS 2D: 12:15, 2:30, 4:45
GRAVITY 3D: 2:30, 7:05, 9:20
HUNGER GAMES: CATCHING FIRE: 12:45, 2:20, 4:10, 5:40, 7:30, 9:00
JACKASS PRESENTS: BAD GRANDPA: 12:10, 7:10, 9:35
LAST VEGAS: 12:55, 3:30, 6:05, 8:40
THOR: THE DARK WORLD 2D: 1:00, 4:30, 6:30, 9:10
THOR: THE DARK WORLD 3D: 3:40
Minor Theatre
12 YEARS A SLAVE: 3:00, 6:00, 9:00
HUNGER GAMES: CATCHING FIRE: 5:30, 8:45
THOR: THE DARK WORLD 2D: 3:50, 6:30, 9:15