Who Will Be the First Ever Mr. Humboldt?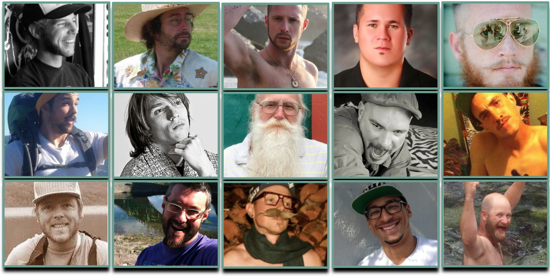 (There can be only one.)
Lowdown readers are pretty plugged in. Thus, you've probably heard more than enough about the Mr. Humboldt Pageant at this point -- click here if this is the first you're hearing about this.
Briefly, this packed Humboldt Saturday will be highlighted by the crowning of the first ever Mr. Humboldt at a sold out event at the Arcata Theatre Lounge. Fifteen (or so) contestants will compete in 1) question and answer 2) swimwear 3) talent and 4) formal wear segments blah, blah, blah ... we don't need to sell you on it. It's sold out. But there is one pertinent update to report: Those who missed out on tickets please note that they will be live streaming this thing at this link. 'Cuz technology is sooo Humboldt.
Now, let's just meet the standup dudes willing to forgo dignity for a good cause (but mostly glory):

Contestant #1:
Mr. Hunkah Hulkah Man Candy
(Micheal Le)
"... sincere, intelligent and majestic..."


Contestant #2:
Mr. Rabbit Ranger
(David Allan James MacCuish)
"...a community-oriented man with many, many rad shirts and hats."


Contestant #3:
Mr. Phlegm
(Ray Oakes)
"Ray calls himself "Mr. Phlegm" because back in 1973, "El Lay coughed me up like a glob of phlegm and this is where I stuck..." SoHum REPRESENT!"


Contestant #4:
Mr. Short Shorts
(Evan Von Werlhof)
"... a man with mad love for the wondrous nature that Humboldt has to offer."

Contestant #5:
Mr. Gimp
(Bryant Kellison)
"... the dreamy, the hilarious, the super-talented musician and comedianian..."


Contestant #6:
Captain Awesome
(Eric Hall)
"... enchanting and sensitive, captivating and charming ..."


Contestant #7:
The Moldy Flat Puppeteer
(Turner Grant Bazen)
"... the most Ferndale we could find ..."


Contestant #8:
Mr. Red Wood
(Dylan Ruiz)
"Don't you just love big, hard wood first thing in the morning?"


Contestant #9:
Mr. Bicycle Pimp
(James Seiberlich)
"... a wild animal whose natural habitat is SoHum ..."


Contestant #10:
Mr. H. Ipster Pibr VII
(David Bethuy)
"... a man that's "9 inches" long in Humboldt County ..."


Contestant #11:
Mr. Planned Parenthood
(John R. Kell III)
"... a man that can really handle a speculum ..."


Contestant #12:
Mr. LatinLover
(John McClurg)
"...the super-lover from south of the border ..."


Contestant #13:
Mr. Music Man
(Burly Dent)
"... omni-talented lead guitarist and vocalist of "TheHiLL" and all-around good guy about town ..."


Contestant #14:
Mr. Man Next Door
(Kashta Coulter)
"... oh, that smile. Oh, those arms ..."


Contestant #15:
Mr. The Worst
(Thomas Warinner)
"... the skeeziest, dirtiest, filthiest, slimiest, terrible-est man in Humboldt County ..."
-Andrew Goff
The Lowdown Fun Committee
Andy Approves
Events
Movie Showtimes
Broadway Cinema
ABOUT TIME: 12:10, 3:10, 6:05, 9:05
BEST MAN HOLIDAY: 12:25, 3:20, 6:15, 9:10
CAPTAIN PHILLIPS: 2:00, 5:15, 8:20
CARRIE: 5:05, 9:40
CLOUDY WITH A CHANCE OF MEATBALLS 2 2D: 1:45, 4:10
COUNSELOR: 6:30, 9:00
ENDER S GAME: 12:05, 2:55, 5:45, 8:40
FREE BIRDS 2D: 12:10, 1:05, 3:35, 5:50, 8:10
FRUITVALE STATION: 2:50, 7:30
GRAVITY 2D: 12:00
GRAVITY 3D: 2:15, 4:40, 7:00, 9:20
JACKASS PRESENTS: BAD GRANDPA: 2:20, 4:55, 7:15, 9:35
LAST VEGAS: 12:55, 3:45, 6:20, 8:55
THOR: THE DARK WORLD 2D: 1:10, 3:05, 4:00, 6:45, 8:45, 9:30
THOR: THE DARK WORLD 3D: 12:15, 5:55
Mill Creek Cinema
CAPTAIN PHILLIPS: 2:15, 5:20, 8:25
ENDER S GAME: 12:40, 3:35, 6:20, 9:10
FREE BIRDS 2D: 12:00, 12:50, 3:10, 7:50
FREE BIRDS 3D: 4:45
GRAVITY 2D: 5:30
GRAVITY 3D: 12:15, 2:30, 7:05, 9:20
JACKASS PRESENTS: BAD GRANDPA: 12:10, 2:30, 4:50, 7:10, 9:30
LAST VEGAS: 12:55, 3:30, 6:00, 8:40
THOR: THE DARK WORLD 2D: 12:30, 3:20, 6:10, 9:00
THOR: THE DARK WORLD 3D: 12:00, 2:50, 5:40, 8:30
Minor Theatre
12 YEARS A SLAVE: 12:00, 3:00, 6:00, 9:00
GRAVITY 2D: 2:40, 4:55, 7:15, 9:30
THOR: THE DARK WORLD 2D: 1:10, 3:50, 6:30, 9:15