Dick Dale Tells The Story of How 'Miserlou' Ended Up in Pulp Fiction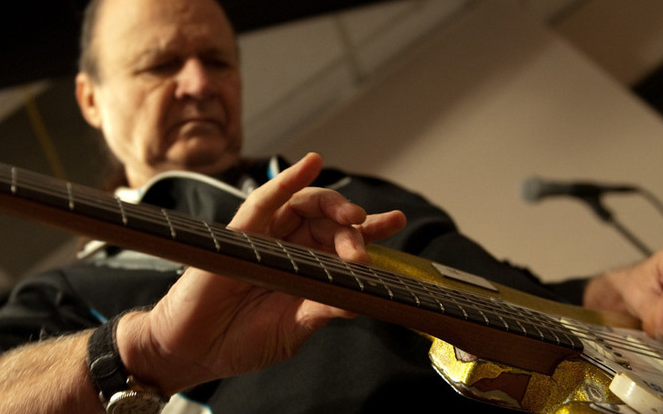 Thank God it's the day that it is! Your Lowdown just confirmed that tickets are still available for the (at least) twice in a lifetime opportunity to see surf guitar innovator Dick Dale in the Scotia's old growth redwood cathedral, the Winema Theatre. Before you go, watch the clip below in which Dick Dale yaks about the time his song "Miserlou" almost didn't end up in Pulp Fiction.
Scotia too far away? Thankfully this is a packed Friday as evidenced by your Lowdown listings farther down. Scroll around. You'll find something in your neck of the forest.
-AG
The Lowdown Fun Committee
McGuinty Might
Events
Movie Showtimes
Broadway Cinema
ABOUT TIME: 12:10, 3:10, 6:05, 9:05
BEST MAN HOLIDAY: 12:25, 3:20, 6:15, 9:10
CAPTAIN PHILLIPS: 2:00, 5:15, 8:20
CARRIE: 5:05, 9:40
CLOUDY WITH A CHANCE OF MEATBALLS 2 2D: 1:45, 4:10
COUNSELOR: 6:30, 9:00
ENDER S GAME: 12:05, 2:55, 5:45, 8:40
FREE BIRDS 2D: 12:10, 1:05, 3:35, 5:50, 8:10
FRUITVALE STATION: 2:50, 7:30
GRAVITY 2D: 12:00
GRAVITY 3D: 2:15, 4:40, 7:00, 9:20
JACKASS PRESENTS: BAD GRANDPA: 2:20, 4:55, 7:15, 9:35
LAST VEGAS: 12:55, 3:45, 6:20, 8:55
THOR: THE DARK WORLD 2D: 1:10, 3:05, 4:00, 6:45, 8:45, 9:30
THOR: THE DARK WORLD 3D: 12:15, 5:55
Mill Creek Cinema
CAPTAIN PHILLIPS: 2:15, 5:20, 8:25
ENDER S GAME: 12:40, 3:35, 6:20, 9:10
FREE BIRDS 2D: 12:00, 12:50, 3:10, 7:50
FREE BIRDS 3D: 4:45
GRAVITY 2D: 5:30
GRAVITY 3D: 12:15, 2:30, 7:05, 9:20
JACKASS PRESENTS: BAD GRANDPA: 12:10, 2:30, 4:50, 7:10, 9:30
LAST VEGAS: 12:55, 3:30, 6:00, 8:40
THOR: THE DARK WORLD 2D: 12:30, 3:20, 6:10, 9:00
THOR: THE DARK WORLD 3D: 12:00, 2:50, 5:40, 8:30
Minor Theatre
12 YEARS A SLAVE: 3:00, 6:00, 9:00
GRAVITY 2D: 4:55, 7:15, 9:30
THOR: THE DARK WORLD 2D: 3:50, 6:30, 9:15