In Honor of NCRT's Latest Production, Let's Watch Cartoons (VIDEO)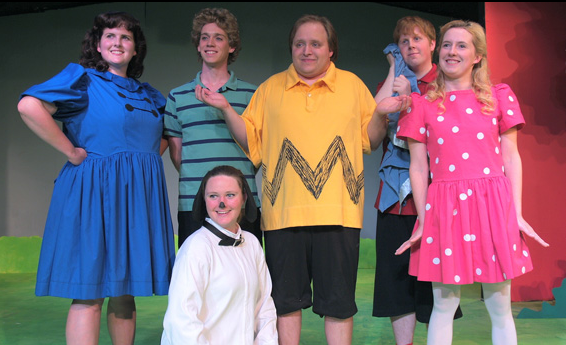 Get your Peanuts here!
Fans of comic strips turned into musical comedy theatre should take notice of North Coast Repertory Theatre's latest production You're a Good Man, Charlie Brown, which opens gala-style Thursday night. Director David Moore and the local cast will breathe life into all your fav Charles M. Shulz-drawn characters. (Your Lost Coast Outpost, always fans of security blankets, digs on Linus, for what it's worth.)
To get you in the mood, please enjoy this scene (below) from the animated version of the show in which ol' failure face Charlie Brown has one of his frequent internal crises pondering the implications of his peanut butter sandwich and pines for that stuck-up, cute, little red-headed girl. Oh, Charlie. Now imagine the joy you'll feel watching a similar meltdown take place live, onstage. Good grief!
-AG
The Lowdown Fun Committee
Godlin Gets Behind
Events
Movie Showtimes
Broadway Cinema
ABOUT TIME: 12:10, 3:10, 6:05, 9:05
CAPTAIN PHILLIPS: 2:00, 5:15, 8:20
CARRIE: 5:05, 9:40
COUNSELOR: 12:00, 5:20, 9:10
ENDER S GAME: 12:05, 2:55, 5:45, 8:40
FREE BIRDS 2D: 12:10, 1:05, 2:30, 3:35, 4:50, 5:50, 7:10, 8:10
FRUITVALE STATION: 2:50, 7:30
GRAVITY 2D: 12:00
GRAVITY 3D: 2:15, 4:40, 7:00, 9:20
JACKASS PRESENTS: BAD GRANDPA: 2:20, 4:55, 7:15, 9:35
LAST VEGAS: 12:20, 12:55, 3:30, 6:15, 8:55
THOR: THE DARK WORLD 2D: 1:10, 2:40, 4:00, 6:45, 8:00, 9:30
THOR: THE DARK WORLD 3D: 12:15, 3:05, 5:55, 8:45
Mill Creek Cinema
CAPTAIN PHILLIPS: 5:20, 8:25
ENDER S GAME: 3:35, 6:20, 9:10
FREE BIRDS 2D: 3:10, 7:50
FREE BIRDS 3D: 4:45
GRAVITY 2D: 5:30
GRAVITY 3D: 7:05, 9:20
JACKASS PRESENTS: BAD GRANDPA: 4:50, 7:10, 9:30
LAST VEGAS: 3:30, 6:00, 8:40
THOR: THE DARK WORLD 2D: 3:20, 6:10, 9:00
THOR: THE DARK WORLD 3D: 2:50, 5:40, 8:30
Minor Theatre
GRAVITY 2D: 4:55, 7:15, 9:30
LAST VEGAS: 4:20, 6:50, 9:20
THOR: THE DARK WORLD 2D: 3:50, 6:30, 9:10