What Humboldt is Doing This Weekend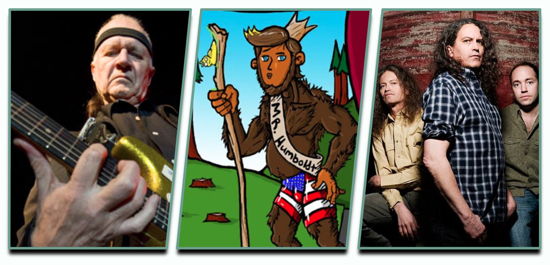 Since this is a fairly sleepy Tuesday, let's look ahead to this weekend's list o' things you might want to think about buying tickets to in advance.
FRIDAY!
Dick Dale: If you've never been inside of Scotia's Winema Theater -- and most haven't -- you're missing one of the most unique, majestic rooms in the county. Built in the 1920s, the building is predominantly old-growth redwood. And this Friday, amongst those giant redwood beams, you'll have the opportunity to hear "Miserlou" -- AKA "the Pulp Fiction song" -- performed by its composer. Ticket info.
Writing My Way Out Of Adolescence: Local story teller Jeff DeMark only performs this collection of tales about his youthful psychedelic adventures once a year. It takes a lot of energy. This year he'll roll it out inside Arcata's newest wine bar Crush. Small and intimate, you'll want to reserve your spot early. Ticket info.
SATURDAY!
Mr. Humboldt Pageant: Local dudes will tuck their dignity snugly into speedos and compete for the honor of being named the first ever "Mr. Humboldt" at the Arcata Theatre Lounge. The traditional pageant format will be spoofed during Q&A, beachwear and formal wear segments. There will be back hair. Ticket info.
Meat Puppets: You've likely heard "Plateau," and "Lake of Fire" performed by some other band, but perhaps you'd be interested in some other selections from the catalog of these alt rockers' 30+ year career. Hang with the brothers Kirkwood Saturday night at HumBrews. Ticket info.
Too Short: "Cocktails," anyone? The celebrated Bay Area rapper will fill the Arcata Community Center with rhymes of yesteryear, making good on a canceled October date. Ticket info.
-AG
The Lowdown Fun Committee
Godlin Gets Behind
Events
Movie Showtimes
Broadway Cinema
ABOUT TIME: 12:10, 3:10, 6:05, 9:05
CAPTAIN PHILLIPS: 2:00, 5:15, 8:20
CARRIE: 5:05, 9:40
COUNSELOR: 12:00, 5:20, 9:10
ENDER S GAME: 12:05, 2:55, 5:45, 8:40
FREE BIRDS 2D: 12:10, 1:05, 2:30, 3:35, 4:50, 5:50, 7:10, 8:10
FRUITVALE STATION: 2:50, 7:30
GRAVITY 2D: 12:00
GRAVITY 3D: 2:15, 4:40, 7:00, 9:20
JACKASS PRESENTS: BAD GRANDPA: 2:20, 4:55, 7:15, 9:35
LAST VEGAS: 12:20, 12:55, 3:30, 6:15, 8:55
THOR: THE DARK WORLD 2D: 1:10, 2:40, 4:00, 6:45, 8:00, 9:30
THOR: THE DARK WORLD 3D: 12:15, 3:05, 5:55, 8:45
Mill Creek Cinema
CAPTAIN PHILLIPS: 5:20, 8:25
ENDER S GAME: 3:35, 6:20, 9:10
FREE BIRDS 2D: 3:10, 7:50
FREE BIRDS 3D: 4:45
GRAVITY 2D: 5:30
GRAVITY 3D: 7:05, 9:20
JACKASS PRESENTS: BAD GRANDPA: 4:50, 7:10, 9:30
LAST VEGAS: 3:30, 6:00, 8:40
THOR: THE DARK WORLD 2D: 3:20, 6:10, 9:00
THOR: THE DARK WORLD 3D: 2:50, 5:40, 8:30
Minor Theatre
GRAVITY 2D: 4:55, 7:15, 9:30
LAST VEGAS: 4:20, 6:50, 9:20
THOR: THE DARK WORLD 2D: 3:50, 6:30, 9:10