Can We Interest You in a Play About Alexander von Humboldt?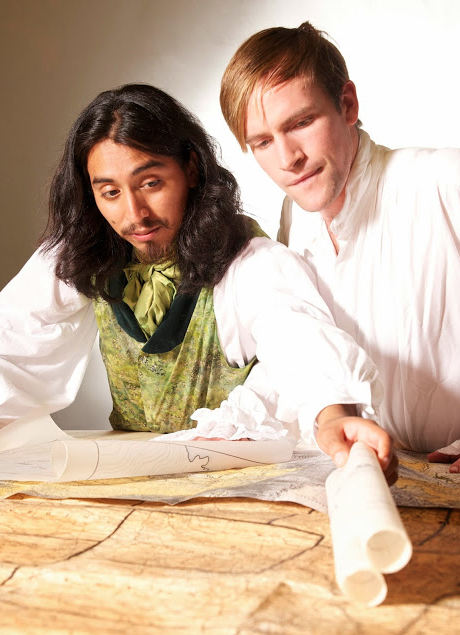 "This is a guy who was a rock star in his day," says Humboldt Unbound director Michael Fields of the famous subject of his play which debuts Thursday night. You like rock stars, right?
The namesake of the county you're almost assuredly reading this in, Alexander von Humboldt (1769-1859) was a best-selling author, explorer and ground-breaking ecologist who went on to have his name forever associated with top shelf ganja. While that last aspect of his life is not addressed in the production, Humboldt's journey to South America plays a large part, as do his relationships with his family and his travel buddy botanist Aime Bonpland.
The project is very much a collaboration of HSU alum Fields, HSU world languages and culture professor Francisco de la Cabada and local musician Tim Gray (there are songs). It stars both HSU student Mark Teeter (pictured, guy on the right) and HSU geography professor Stephen Cunha who play the younger and older versions of the title role, respectively.
Do you want this history lesson? For the next two weeks, Humboldt (county residents) can consume the life of Humboldt (the man) in theatrical form at the Van Duzer Theatre -- Thursdays through Saturday with one matinee on Sunday, Nov. 17. Less historically motivated gatherings in your Thursday Lowdown below.
-Andrew Goff
The Lowdown Fun Committee
Mike Mandates
Events
Movie Showtimes
Broadway Cinema
CAPTAIN PHILLIPS: 2:00, 5:15, 8:20
CARRIE: 4:35, 9:40
CLOUDY WITH A CHANCE OF MEATBALLS 2 2D: 12:10, 4:20
COUNSELOR: 1:00, 3:40, 6:20, 9:00
ENDER S GAME: 12:05, 2:55, 5:45, 6:30, 8:40, 9:20
FREE BIRDS 2D: 11:55, 1:10, 2:15, 3:35, 5:55, 7:05, 8:15
FREE BIRDS 3D: 4:55
FRUITVALE STATION: 2:25, 7:25
GRAVITY 2D: 4:15
GRAVITY 3D: 1:50, 6:40, 9:05
JACKASS PRESENTS: BAD GRANDPA: 1:15, 2:30, 3:45, 4:50, 6:05, 8:30, 9:35
LAST VEGAS: 12:45, 3:25, 6:10, 8:50
THOR MARATHON 3D: 2:30
THOR: THE DARK WORLD 3D: 8:00
WIZARD OF OZ 3D: 12:00, 2:25
Mill Creek Cinema
CAPTAIN PHILLIPS: 5:25, 8:30
CARRIE: 6:40
CLOUDY WITH A CHANCE OF MEATBALLS 2 2D: 4:15
COUNSELOR: 3:45, 6:25, 9:05
ENDER S GAME: 3:20, 6:10, 9:00
FREE BIRDS 2D: 3:10, 5:35
FREE BIRDS 3D: 7:55
GRAVITY 2D: 9:20
GRAVITY 3D: 4:35
JACKASS PRESENTS: BAD GRANDPA: 4:50, 7:10, 9:30
LAST VEGAS: 3:25, 6:00, 8:40
THOR: THE DARK WORLD 3D: 8:00
Minor Theatre
GRAVITY 2D: 4:40, 6:55, 9:10
INEQUALITY FOR ALL: 3:50, 6:05, 8:20
LAST VEGAS: 4:00, 6:30, 9:00