Sunday, May 19, 2013's Lowdown
Lyndsey Battle knows how to birthday.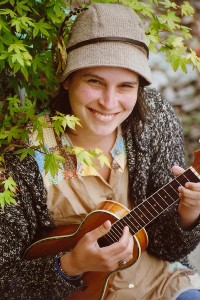 To celebrate 30 years on this planet, sure, the local ukelele slinger/KHUM's "Meet Me in the Morning" DJ could have gone to Applebee's for boneless wings. That's always a popular choice. Instead, she and too many local musicians will be invading Redwood Curtain Brewery for a birthday party -- dubbed Airheads: Celebrating 30 Years of Battle -- to be broadcast live in KHUM. Classy!
Tune in from 11 a.m. to 2 p.m. to hear performances by Gunsafe (it's Stella's birthday too), La Musique Diabolique, Colin Vance, Josephine Johnson, thelittlestillnotbigenough, Lela Roy, Silver Hammer, Eel River, Kurt Vonnegut's Orange Chicken, Chris Parreira, Cory Goldman, Todd Krider, Jeremiah Wiebe-Anderson and, of course, the birthday girl.
-Andrew Goff
The Lowdown Fun Committee
Larry Likes
Events
Movie Showtimes
Broadway Cinema
42: 5:10, 8:15
BIG WEDDING: 1:35, 6:45
GREAT GATSBY 2D: 2:00, 5:15, 8:25
GREAT GATSBY 3D: 1:00, 4:15, 7:30
HOME RUN: 12:30, 3:20, 6:05, 8:45
IRON MAN 3 2D: 11:45, 2:50, 4:55, 5:55, 9:00
IRON MAN 3 3D: 2:20, 5:25, 8:35
OBLIVION: 12:25, 3:25, 6:20, 9:15
OLYMPUS HAS FALLEN: 3:55, 9:05
PAIN AND GAIN: 12:15, 3:15, 6:25, 9:25
STAR TREK INTO THE DARKNESS 2D: 12:00, 1:45, 3:10, 6:15, 8:00, 9:20
STAR TREK INTO THE DARKNESS 3D: 11:40, 2:40, 5:45, 8:50
THE CROODS 2D: 12:05, 2:35
Garberville Theater
Mill Creek Cinema
42: 5:45, 8:45
GREAT GATSBY 2D: 1:00, 4:15, 7:30
GREAT GATSBY 3D: 2:00, 5:10, 8:20
IRON MAN 3 2D: 12:00, 3:00, 6:05, 9:05
IRON MAN 3 3D: 11:50, 2:50, 5:50, 8:50
OBLIVION: 12:30, 6:25
PAIN AND GAIN: 3:25, 9:15
STAR TREK INTO THE DARKNESS 2D: 12:05, 3:10, 6:15, 9:20
STAR TREK INTO THE DARKNESS 3D: 2:20, 5:25, 8:30
THE CROODS 2D: 12:45, 3:20
Minor Theatre
GREAT GATSBY 2D: 2:10, 5:20, 8:30
IRON MAN 3 2D: 12:30, 3:20, 6:15, 9:10
STAR TREK INTO THE DARKNESS 2D: 12:15, 3:05, 6:00, 8:55