Wednesday, May 15, 2013's Lowdown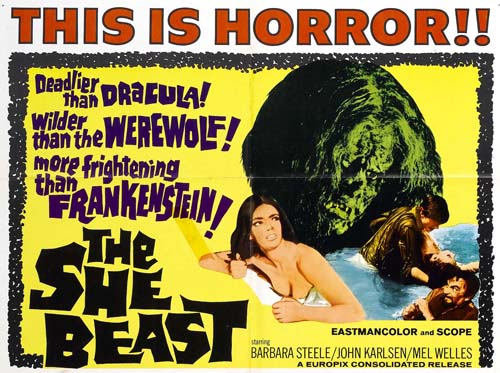 You know what's damned near impossible for me? Sitting still and being quiet in a dark room for two hours, which makes movie viewing pretty much a no go. But! Wanna know a place where you can watch a movie with your amigos and eschew regular movie manners? That would be any movie night at the Arcata Theatre Lounge. Move around, BS with buds, yell at the screen, drink a beer. It's film viewing for the ADHD generation!
Some of the most squirmy nights are the semi-weekly Science Fiction Pint and Pizza Nights featuring old, gloriously awful sci-fi/horror/fantasy flicks. And there's one this Wednesday! So gather your snarkiest critic comrades together, get a pitcher and a pie and provide your own Mystery Science Theater 3000-esque commentary to The She Beast (1966). The plot focuses on ... oh, who the fuh cares? Watch the trailer below and/or check out your other Wednesday Lowdown options farther down.
-Andrew Goff
The Lowdown Fun Committee
Larry Likes
Events
Movie Showtimes
Broadway Cinema
42: 1:50, 5:00, 8:10
BIG WEDDING: 1:10, 6:30
EVIL DEAD: 4:30, 9:40
GREAT GATSBY 2D: 2:00, 5:15, 8:30
GREAT GATSBY 3D: 1:00, 4:15, 7:30
HOME RUN: 12:30, 3:20, 6:05, 8:50
IRON MAN 3 2D: 12:00, 1:40, 3:05, 6:15, 8:00, 9:20
IRON MAN 3 3D: 11:45, 2:45, 4:50, 5:55, 9:00
JURASSIC PARK 2D: 7:40
OBLIVION: 12:25, 3:25, 6:20, 9:15
OLYMPUS HAS FALLEN: 1:30, 6:50
PAIN AND GAIN: 12:15, 3:15, 6:25, 9:25
PLACE BEYOND THE PINES: 3:30, 8:45
THE CROODS 2D: 12:10, 2:40, 5:10
Garberville Theater
Mill Creek Cinema
42: 2:45, 5:40, 8:40
BIG WEDDING: 6:30, 8:50
GREAT GATSBY 2D: 4:15, 7:30
GREAT GATSBY 3D: 5:15, 8:30
IRON MAN 3 2D: 3:10, 6:15, 9:20
IRON MAN 3 3D: 2:50, 5:55, 9:00
OBLIVION: 3:00, 6:00, 9:10
PAIN AND GAIN: 3:20, 6:20, 9:25
THE CROODS 2D: 4:00
Minor Theatre
GREAT GATSBY 2D: 5:50, 9:00
IRON MAN 3 2D: 5:30, 8:40
MUD: 6:15, 9:10