Monday, May 13, 2013's Lowdown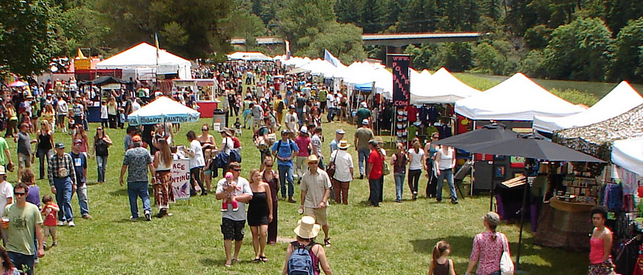 As we've noted, HumCo Monday's are bittersweet. Sure, there's fun stuff happening, but it's the same fun stuff as last week.
So! We'll use this space to suggest y'all look ahead to decide how you'll spend your summer, specifically the weekend of June 1. One great idea: that's return of the Mateel Community Center's Summer Arts and Music Festival. Now, yes, you could shell out the $25 for the entire weekend pass ... like a sucker. But we mention it today because the MCC is still looking for volunteers to staff the event. We don't have to go over the motivation for volunteering at sweet events, do we?
Cool. If you're interested in getting in on that, contact Michele Wood, at 923-3368 ext. 32 or volunteers@mateel.org. Back to Monday! Check out the haps in your Lowdown below.
-Andrew Goff
The Lowdown Fun Committee
Larry Likes
Events
Movie Showtimes
Broadway Cinema
42: 1:50, 5:00, 8:10
BIG WEDDING: 1:10, 6:30
EVIL DEAD: 4:30, 9:40
GREAT GATSBY 2D: 2:00, 5:15, 8:30
GREAT GATSBY 3D: 1:00, 4:15, 7:30
HOME RUN: 12:30, 3:20, 6:05, 8:50
IRON MAN 3 2D: 12:00, 1:40, 3:05, 6:15, 8:00, 9:20
IRON MAN 3 3D: 11:45, 2:45, 4:50, 5:55, 9:00
JURASSIC PARK 2D: 7:40
OBLIVION: 12:25, 3:25, 6:20, 9:15
OLYMPUS HAS FALLEN: 1:30, 6:50
PAIN AND GAIN: 12:15, 3:15, 6:25, 9:25
PLACE BEYOND THE PINES: 3:30, 8:45
THE CROODS 2D: 12:10, 2:40, 5:10
Garberville Theater
Mill Creek Cinema
42: 2:45, 5:40, 8:40
BIG WEDDING: 6:30, 8:50
GREAT GATSBY 2D: 4:15, 7:30
GREAT GATSBY 3D: 5:15, 8:30
IRON MAN 3 2D: 3:10, 6:15, 9:20
IRON MAN 3 3D: 2:50, 5:55, 9:00
OBLIVION: 3:00, 6:00, 9:10
PAIN AND GAIN: 3:20, 6:20, 9:25
THE CROODS 2D: 4:00
Minor Theatre
GREAT GATSBY 2D: 5:50, 9:00
IRON MAN 3 2D: 5:30, 8:40
MUD: 6:15, 9:10