Friday, May 10, 2013's Lowdown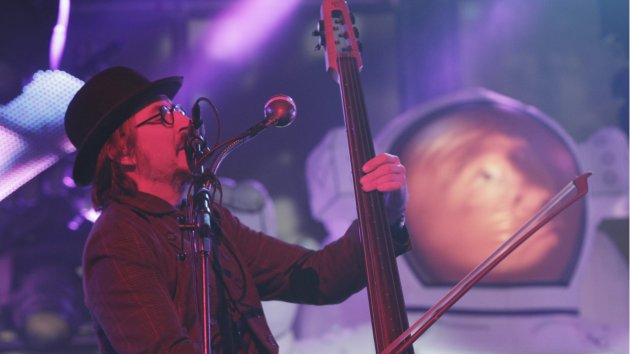 Maybe Les Claypool thought Primus was feeling a little flat. The band needed to be filled out a bit. Whatever it was, a crowd of lucky Humboldtians -- the ones lucky enough to snatch up tickets early -- will crowd into the Eureka Municipal Auditorium on Friday for Primus' new, state-o'-the-art stage show ... IN 3D!
In the Fuse-produced video below, get a sneak peak of what Primus' 3D stageshow is like and learn what role George effin' Lucas played in its genesis.
The Lowdown Fun Committee
Larry Likes
Events
Primus' Spring 3D Tour
Eureka Municipal Auditorium / 8 p.m.
Each attendee will be issued 3D goggles, and the band plans to "actually turn around during improv sections (of the songs) and sort of jam along with our visualist and images that are being created especially for this tour." Also, a quadraphonic sound system.
View Comments
Movie Showtimes
Broadway Cinema
42: 1:50, 5:00, 8:10
BIG WEDDING: 1:10, 6:30
EVIL DEAD: 4:30, 9:40
GREAT GATSBY 2D: 2:00, 5:15, 8:30
GREAT GATSBY 3D: 1:00, 4:15, 7:30
HOME RUN: 12:30, 3:20, 6:05, 8:50
IRON MAN 3 2D: 12:00, 1:40, 3:05, 6:15, 8:00, 9:20
IRON MAN 3 3D: 11:45, 2:45, 4:50, 5:55, 9:00
JURASSIC PARK 2D: 7:40
OBLIVION: 12:25, 3:25, 6:20, 9:15
OLYMPUS HAS FALLEN: 1:30, 6:50
PAIN AND GAIN: 12:15, 3:15, 6:25, 9:25
PLACE BEYOND THE PINES: 3:30, 8:45
THE CROODS 2D: 12:10, 2:40, 5:10
Garberville Theater
Mill Creek Cinema
42: 11:50, 2:45, 5:40, 8:40
BIG WEDDING: 6:30, 8:50
GREAT GATSBY 2D: 12:55, 4:15, 7:30
GREAT GATSBY 3D: 2:00, 5:15, 8:30
IRON MAN 3 2D: 12:05, 3:10, 6:15, 9:20
IRON MAN 3 3D: 11:45, 2:50, 5:55, 9:00
OBLIVION: 12:00, 3:00, 6:00, 9:10
PAIN AND GAIN: 12:15, 3:20, 6:20, 9:25
THE CROODS 2D: 1:30, 4:00
Minor Theatre
GREAT GATSBY 2D: 5:50, 9:00
IRON MAN 3 2D: 5:30, 8:40
MUD: 6:15, 9:10