Tuesday, May 7, 2013's Lowdown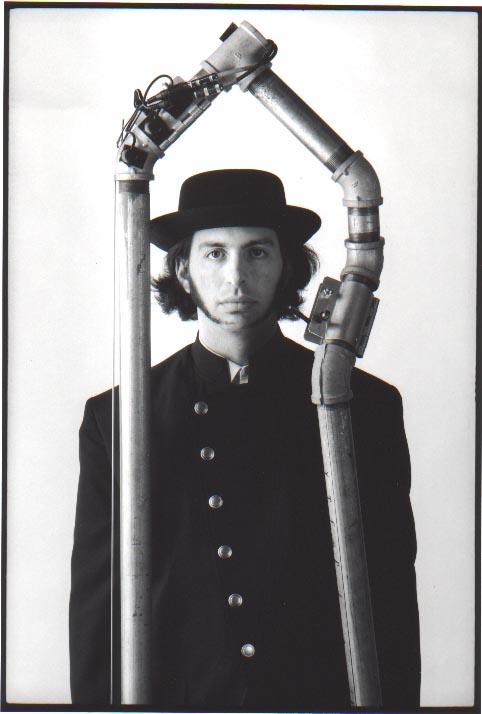 Question for all you music fans out there: Who is your all-time favorite "magic pipe" player? I'll give you a sec to mull it over.
Now, for most people, the honest answer should have been "A what?" That is, unless you are already familiar with That 1 Guy, who invented his own special instrument to assist him in his one man band pursuits. So what is a magic pipe? A pair of connected steel pipes with an orchestral bass string attached with a few sample trigger points (see the video below for more from its creator). With his one-of-kind instrument in hand, That 1 Guy forges down the screwball song trail mapped out over the years by Frank Zappa, Les Claypool, Captain Beefhart and others. I guess it's OK to call his music "weird," as long as that's not a negative to you.
See That 1 Guy go his own way Tuesday night at HumBrews, or something else in the Lowdown below.
-Andrew Goff
The Lowdown Fun Committee
Larry Likes
Events
Movie Showtimes
Broadway Cinema
42: 11:50, 2:45, 5:45, 8:45
BIG WEDDING: 12:05, 2:20, 4:40, 7:10, 9:30
EVIL DEAD: 4:30, 9:40
IRON MAN 3 2D: 11:45, 2:50, 5:55, 7:45, 9:00
IRON MAN 3 3D: 12:00, 1:45, 3:05, 4:50, 6:15, 8:00, 9:20
JURASSIC PARK 3D: 2:30, 5:30, 8:30
OBLIVION: 12:20, 2:10, 3:15, 5:15, 6:20, 8:15, 9:15
OLYMPUS HAS FALLEN: 1:35, 6:50
PAIN AND GAIN: 11:55, 3:00, 6:00, 9:05
PLACE BEYOND THE PINES: 2:00, 5:25, 8:35
THE CROODS 2D: 12:10, 2:40, 5:10
Garberville Theater
GI JOE: RETALIATION: 7:30
Mill Creek Cinema
42: 5:25, 8:30
BIG WEDDING: 4:10, 6:30, 8:50
IRON MAN 3 2D: 3:10, 6:15, 8:10, 9:20
IRON MAN 3 3D: 2:50, 5:55, 9:00
JURASSIC PARK 3D: 6:45
OBLIVION: 3:00, 6:00, 9:10
PAIN AND GAIN: 3:20, 6:20, 9:25
SCARY MOVIE 5: 4:25, 9:30
THE CROODS 2D: 3:05, 5:40
Minor Theatre
IRON MAN 3 2D: 5:30, 8:40
MUD: 6:10, 9:05
PLACE BEYOND THE PINES: 5:45, 8:50