Lowdown: LoCO's Favorite Past Sand Sculpture Festival Entries

Here's an easy call: Go to the beach this weekend, Humboldt. Duh.
That would be a good idea any summer day, right? But this Saturday you have extra incentive since the landscape will be artistically manipulated by humans (in a non-permanent way) for the 18th Annual Friends of the Dunes Sand Sculpture Festival held from 8 a.m. to 3 p.m. at the Manila Dunes Recreation Area. Get some sand down your pants (for a good cause)!
If you just want to look at the brilliance, the best time to go is after noon. But if you've been jonesin' to sculpt some earth, sign up at the FOD website where you'll also find countless of well organized (who does that? Yay!) photos from past years goin' all the way back to 2001. Do yourself a favor and get some inspiration, sculptors.
Now, your Lost Coast Outpost isn't claiming to be sand sculpture experts or anything, but these are our favorite past entries: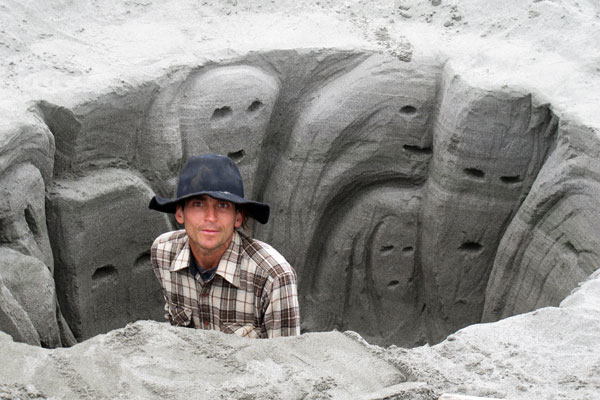 2012: "Some Faces" by Blake.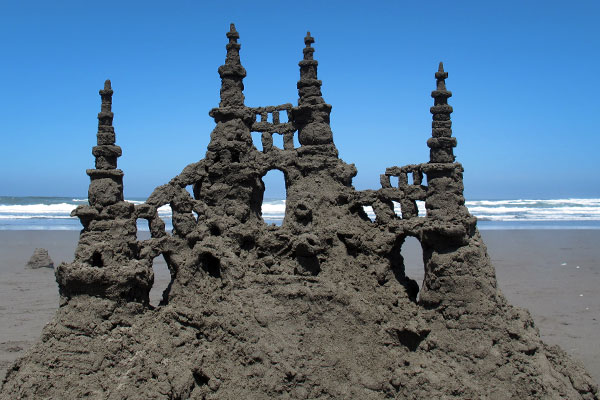 2011: "Educate One Self" by Scott Martin.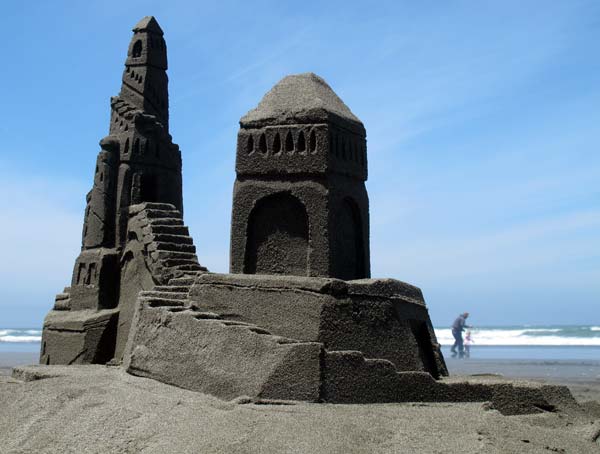 2010: "Castle" by Grumpy Stout.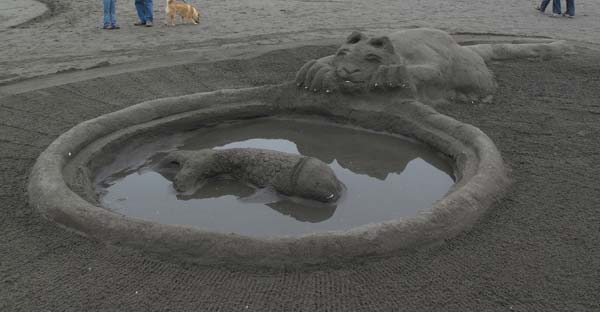 2009: "Friend of Foe" by Team Catfish.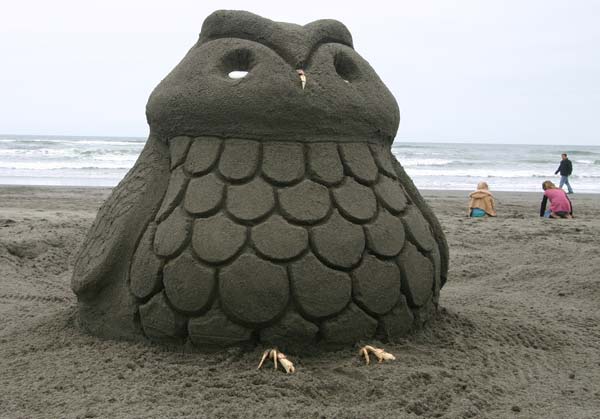 2008: "Hooey" by Carole Morgal.
No, seriously. Go look too many photos of these things. Again, the sand sculpting takes place on Saturday but if you can't wait that long for fun, check out Friday's Lowdown below.
-Andrew Goff
The Lowdown Fun Committee
Larry Likes
Events
Movie Showtimes
Broadway Cinema
FAST AND FURIOUS 6: 3:45
MAN OF STEEL 2D: 11:45, 2:45, 9:05
MAN OF STEEL 3D: 5:55
MONSTERS UNIVERSITY 2D: 11:50, 12:40, 2:35, 5:20, 6:00, 8:00
MONSTERS UNIVERSITY 3D: 3:20, 8:40
NOW YOU SEE ME: 11:55, 2:30, 5:15, 8:10
PURGE: 6:45
STAR TREK INTO THE DARKNESS 2D: 12:50, 8:55
THE HEAT: 12:10, 1:15, 3:00, 4:05, 5:50, 6:55, 8:35, 9:40
THIS IS THE END: 1:35, 4:10, 6:35, 9:20
WHITE HOUSE DOWN: 12:05, 2:00, 3:10, 5:10, 6:10, 8:15, 9:15
WORLD WAR Z 2D: 12:00, 1:00, 3:50, 6:40, 9:30
WORLD WAR Z 3D: 2:50, 5:40, 8:25
Garberville Theater
Mill Creek Cinema
MAN OF STEEL 2D: 11:55, 2:10, 5:20, 8:40
MAN OF STEEL 3D: 3:15
MONSTERS UNIVERSITY 2D: 12:00, 12:55, 2:45, 5:30, 6:35, 8:10
MONSTERS UNIVERSITY 3D: 3:05, 8:30
NOW YOU SEE ME: 1:25, 6:45
THE HEAT: 12:30, 3:20, 6:05, 8:50, 9:30
THIS IS THE END: 4:10, 9:25
WHITE HOUSE DOWN: 11:50, 2:55, 5:55, 6:30, 9:00
WORLD WAR Z 2D: 3:40, 9:15
WORLD WAR Z 3D: 12:10, 5:45
Minor Theatre
MAN OF STEEL 2D: 5:25, 8:40
MONSTERS UNIVERSITY 2D: 3:30, 6:00, 8:30
WORLD WAR Z 2D: 4:00, 6:45, 9:30