Lowdown: Where Can Humboldt See A Billy Joel Tribute Band For Free?
It would be foolish to assume that all you Lowdown frequenters wouldn't be interested to know that there will be a Billy Joel tribute band playing for free Thursday in your neighbs, right? You totally care about this. So take note, the cleverly named Joel: The Band will start the fire at the C Street Market Square this afternoon as part of the Eureka Summer Concert series. How do you know they've got the chops to do the Piano Man justice? Here's a selection of press quotes from the band's website (also included in the video above):
"Dynamic!" "Spectacular!" –

In the Casinos, Atlantic City
"(Lead singer) Kyle Martin isn't just good, he's spectacular!" -

Reno Gazette-Journal

"...a strong, agile voice. He made the audience happy." -

Modesto Bee

"The best Billy Joel Tribute band in the West Coast" -

Good Day Sacramento
Your mission should be clear at this point, right? No? Well, we guess you could turn up your nose at all the spectacular-ness and head over to HumBrews where The Shook Twins will fill your soul with talent jealousy. Identical twin sisters Laurie and Katelyn Shook have more than secured their awesomeness credentials at this point with their tight harmonies, compelling songwriting, inventive use of loop pedals and hypnotizing stage presence. OK, you're right. That will almost assuredly be a classier affair. Do that, HumCo.
But wait! Joel: The Band starts at 6 p.m. and The Shook Twins don't go on 'til 9 p.m. You don't have to choose! Humboldt wins again!
-Andrew Goff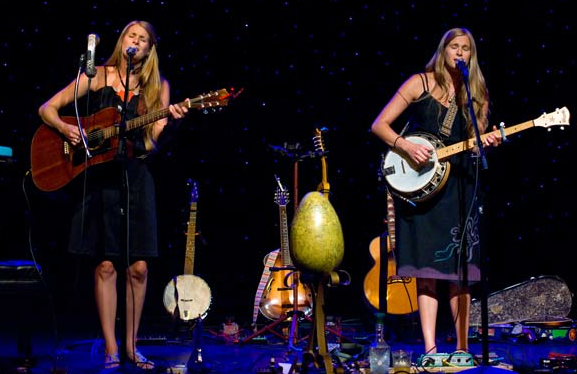 Events
The Comedy of Errors
Dell'Arte / 8 p.m. / $18
Set in a place much like the Arcata Plaza, at an event much like the Farmers Market, Dell'Arte puts an original twist on Shakespeare's outrageous farce.
View Comments
Movie Showtimes
Broadway Cinema
AFTER EARTH: 1:15, 6:30
EPIC 2D: 12:50, 3:30
FAST AND FURIOUS 6: 6:15, 9:15
INTERNSHIP: 3:40, 9:00
MAN OF STEEL 2D: 1:10, 4:30, 7:50, 8:50
MAN OF STEEL 3D: 2:10, 5:30
MONSTERS UNIVERSITY 2D: 11:50, 12:40, 2:35, 5:20, 6:00, 8:00
MONSTERS UNIVERSITY 3D: 3:20, 8:40
NOW YOU SEE ME: 11:55, 2:35, 5:15, 8:10
PURGE: 12:45, 2:55, 5:00
STAR TREK INTO THE DARKNESS 2D: 12:10, 3:05, 6:05, 9:05
THE HEAT: 10:00
THIS IS THE END: 1:35, 4:10, 6:45, 9:20
WHITE HOUSE DOWN: 7:00
WORLD WAR Z 2D: 12:00, 1:00, 3:50, 6:40, 9:30
WORLD WAR Z 3D: 2:50, 5:40, 8:30
Mill Creek Cinema
EPIC 2D: 2:00, 4:30
MAN OF STEEL 2D: 2:10, 5:30, 8:50
MAN OF STEEL 3D: 1:00, 4:25, 7:50
MONSTERS UNIVERSITY 2D: 12:00, 12:55, 2:45, 5:30, 6:30, 8:10
MONSTERS UNIVERSITY 3D: 3:00, 8:30
NOW YOU SEE ME: 12:40, 3:30, 6:20, 9:05
THE HEAT: 10:00
THIS IS THE END: 1:20, 4:00, 6:40, 9:20
WHITE HOUSE DOWN: 7:00
WORLD WAR Z 2D: 3:40, 9:15
WORLD WAR Z 3D: 12:10, 5:45
Minor Theatre
MAN OF STEEL 2D: 5:25, 8:40
MONSTERS UNIVERSITY 2D: 3:30, 6:00, 8:30
WORLD WAR Z 2D: 4:00, 6:45, 9:30