Monday, June 3, 2013's Lowdown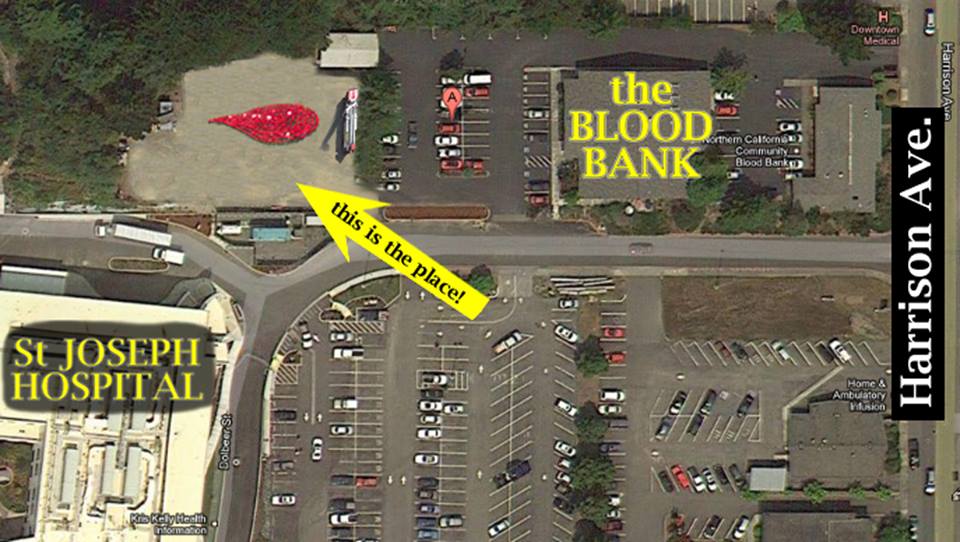 Oh, you think Monday's are boring? You are wrong. Because only on this very special day of the week are red-wearing Humboldtians gathering in a gravel parking lot to form a giant red blob (they're calling it a blood drop). C'mon, you've got 15 minutes to kill, right?

Right. The unique cluster is occurring at 11:00 a.m. adjacent to the Northern California Community Blood Bank to celebrate National Volunteer Blood Donor Day. And you know what? If you happen to make it down the since you're so close to the bank you can drop off a pint! See what they did there?!
Other less draining options in your Monday Lowdown below.
-Andrew Goff
The Lowdown Fun Committee
Larry Likes
Events
Movie Showtimes
Broadway Cinema
AFTER EARTH: 1:15, 3:50, 6:25, 9:00, 9:40
EPIC 2D: 2:10, 4:45, 5:35, 7:20, 8:20
EPIC 3D: 12:20, 2:55
FAST AND FURIOUS 6: 11:55, 1:55, 3:00, 5:00, 6:05, 8:10, 9:10
GREAT GATSBY 2D: 2:00, 5:15, 8:25
HANGOVER PART III: 12:55, 1:45, 3:30, 4:25, 6:00, 7:00, 8:40, 9:30
IRON MAN 3 2D: 5:55, 8:55
IRON MAN 3 3D: 2:50
NOW YOU SEE ME: 11:55, 2:30, 5:20, 8:05
STAR TREK INTO THE DARKNESS 2D: 12:00, 3:10, 6:15, 9:20
STAR TREK INTO THE DARKNESS 3D: 2:40, 5:45, 8:50
Garberville Theater
Mill Creek Cinema
AFTER EARTH: 4:20, 6:55, 9:30
EPIC 2D: 3:15, 5:45, 7:30, 8:20
EPIC 3D: 4:55
FAST AND FURIOUS 6: 3:00, 6:00, 9:05
HANGOVER PART III: 4:35, 7:05, 9:35
IRON MAN 3 2D: 2:50, 8:55
IRON MAN 3 3D: 6:10
NOW YOU SEE ME: 2:45, 5:30, 8:15
STAR TREK INTO THE DARKNESS 2D: 6:20, 9:20
STAR TREK INTO THE DARKNESS 3D: 3:10
Minor Theatre
GREAT GATSBY 2D: 5:20, 8:30
HANGOVER PART III: 4:20, 6:50, 9:20
STAR TREK INTO THE DARKNESS 2D: 3:05, 6:00, 8:55